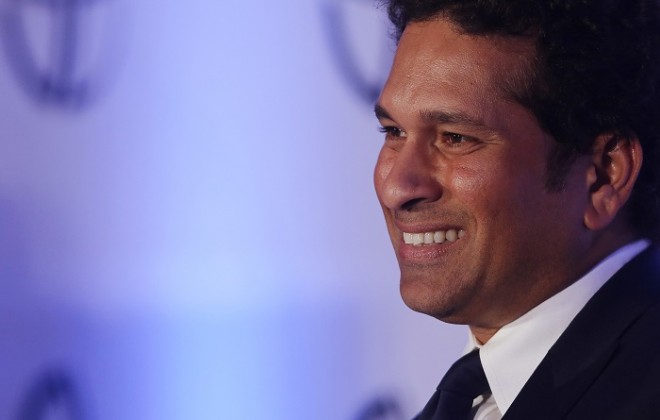 Sachin Tendulkar is the latest to back India to win 2015 World T20 title, agreeing with his former teammate Zaheer Khan that India are favourites.
A winning member of the 2011 ICC Cricket World Cup, Tendulkar, when asked about India's chances at the 2015 World Cup in Australia and New Zealand, subtly, without naming India, said the the defending champions are ready to defend. He did not take any sides directly at the time, as he was the brand ambassador of the competition.
However, the Master Blaster was crystal clear when asked this time around, with Tendulkar believing India will win the 2016 World T20. "I was the brand ambassador for the 50-over World Cup and it's not the same this time. So, I can say India go all the way," Asian Age quoted Tendulkar as saying.
India, who won the inaugural edition of the World T20 in South Africa in 2007, are a strong T20 side with players such as Virat Kohli, Rohit Sharma, Shikhar Dhawan, Suresh Raina and MS Dhoni, who form the core batting lineup for the Men in Blue.
India have an added advantage of playing at home, as they are aware of the conditions. Cricket fans in India, who are expected to pour in numbers and fill the stadiums, will also want Dhoni to lift yet another major ICC title as captain.
Dhoni was the captain of the India team when they won the 2007 ICC World T20, 2011 ICC Cricket World Cup and 2013 ICC Champions Trophy.
"Having the T20 Cup here is going to be big. Everyone is waiting for this opportunity to go out and support India," said Tendulkar.
The format has become even more exciting of late, with players coming up with some incredible shots like switch-hits and the reverse sweep against a seamer.
"The shortest version has changed the dynamics of cricket. Few years ago nobody thought a batsman could reverse sweep a pacer over third-man for a six. The intensity of T20 cricket makes it more engaging for the spectators. You don't see such high intense action for three hours at a stretch in any other format," said Tendulkar.
India, who are presently in Australia, will face the Aussies and Sri Lanka in T20s, before they start the 2015 World T20 campaign. India are currently number eight in the ICC rankings, and will have to play some quality cricket to defeat some top teams in the competition.
India have been slotted in a tough Group B, which includes Australia, Pakistan, New Zealand and a qualifier from the first round, expected to be Bangladesh.