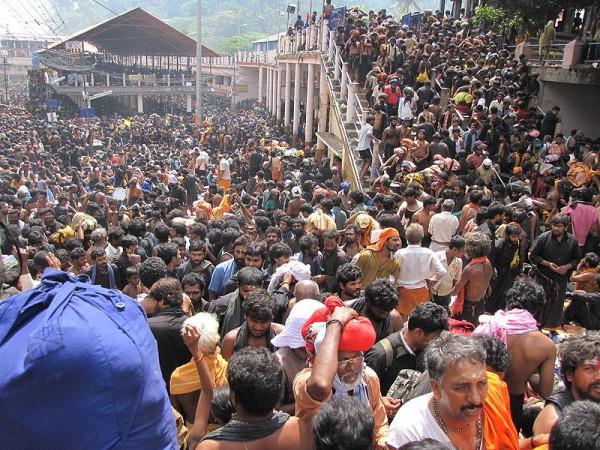 A landmark judgment by the Supreme Court on Friday ensured women in all age groups can enter Lord Ayyappa's Sabarimala temple in Kerala, but the lone woman judge on the Constitution bench gave a dissenting verdict.
Justice Indu Malhotra pronounced a strongly phrased dissent judgment saying that a verdict altering time-honoured practices at a temple would have far reaching consequences over other places of worship as well.
In essence Justice Malhotra saw a conflict between Article 25 of the constitution and Article 14. While the majority verdict upheld the Hindu women's right to equality, which was denied under the temple strictures that allowed only selective entry, Justice Malhotra upheld the view that Article 25 ensured certain rights to the temple as well.
"Issues of deep religious sentiments should not be ordinarily be interfered by the court. The Sabarimala shrine and the deity is protected by Article 25 of the Constitution of India and the religious practices cannot be solely tested on the basis of Article 14," the justice said in her verdict.
Malhotra also said matters of religion cannot be judged through the prism of rationality and that applying the principle of right to equality to decide mattes of religion may not be correct. "Religious practices can't solely be tested on the basis of the right to equality," she said, adding that it's up to the worshippers, not the court to decide what's religion's essential practice.
"What constitutes essential religious practice is for the religious community to decide, not for the court. India is a diverse country. Constitutional morality would allow all to practise their beliefs. The court should not interfere unless if there is any aggrieved person from that section or religion."
She also said the ramifications of the judgment won't be limited to Sabarimala alone, adding that "deep religious sentiments shouldn't be ordinarily interfered into."
In its 4-1 majority ruling the Constitution bench headed by Chief Justice Dipak Misra struck down Rule 3(b) of the Kerala Hindu Places of Public Worship (Authorisation of Entry) Rules of 1965.
Under the decades-old rule, entry of women between the ages of 10 and 50 years to the Sabarimala temple is barred. Apart from Mira, justices Rohinton Nariman, AM Khanwilkar and DY Chandrachud held the view that the rule was a violation of right of Hindu women enshrined under Article 25 (1) of the constitution.