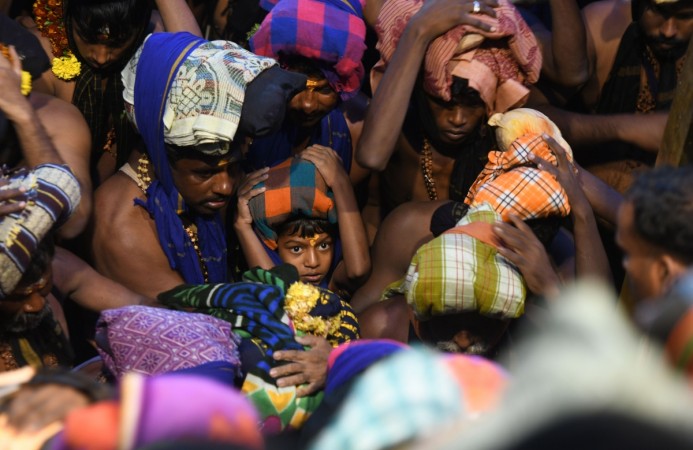 One day after the doors of the Sabarimala temple in Kerala were opened, right-wing organisations in the state called for a full day bandh protesting the arrest of Hindu Aikyavedi state president KP Sasikala.
She was arrested at 2:30 am on Saturday on her way to the Sabarimala temple.
The protesters said that since she was over the age of 50, she should be allowed inside the temple.
Live Updates
2018-11-1717:23 (IST)
Attackers of CPM District Secretary's family identified
The members of the Sangh Parivar who attacked the wife and son of the CPM District Secretary have been identified. They have been charged with attempt to murder.
2018-11-1717:21 (IST)
PV Sasikala out of police custody
PV Sasikala has been released by the police. However, she was given a notice under 107 CrPC which does not allow her to get involved in any criminal activities.
2018-11-1716:15 (IST)
Rahul Eashwar urges devotees to listen to the police
Police stopped me at Nilakkal. Didn't give permission to go beyond as Section 144 is imposed & possibility of arrest.

Cooperated with Police.. wud request all devotees to cooperate with police too. Police took to me the register to sign of court order

No Feminists will intrude pic.twitter.com/anyKd3gzr8

— Rahul Easwar (@RahulEaswar) November 17, 2018
2018-11-1714:14 (IST)
Hartal supporters attack family of CPM member
Hartal supporters beat up the son and wife of the CPM District Secretary in Kuttiyadi. According to a report by News18, their car was stopped and they were dragged out and attacked by 10 people, who were part of the Sangh Parivar.
2018-11-1713:18 (IST)
Travancore board seeks more time for implementation of supreme Court verdict
The Travancore Devaswom Board will request the Supreme Court for more time to implement the judgment to allow women of menstruating age into the temple.
TDB President A Padmakumar, told PTI, "We will move the Supreme court on Monday through Advocate Chandra Uday Singh."
2018-11-1713:08 (IST)
Security beefed up in Sabarimala with drones
The police have resorted to using drones to keep an eye on the situation in Sabarimala.
2018-11-1713:01 (IST)
K P Sasikala in preventive custody
Aikya Vedi state president, K P Sasikala was arrested at 2:30 am on Saturday near Marakkootam, while she was on her way to the Sabarimala temple.
According to reports, she was taken to the Ranni police station while she was wearing her irrumudi. Along with her, another activist Sudheer was also taken into preventive custody by the police.
Aikya Vedi members are currently protesting outside Ranni police station.
2018-11-1711:41 (IST)
CM Pinarayi Vijayan asks for a peaceful pilgrimage season
Kerala chief minister Pinarayi Vijayan, on his Facebook page, requested for a peaceful Mandala pilgrimage.
He wrote, "We request the cooperation of all to ensure a peaceful Mandala - Makaravilakku pilgrimage season in Sabarimala. The objective of the Government is to uphold the esteem of Sabarimala temple, which is a major pilgrim centre in the country and is a place of worship of all people. Media must also take care to not publish misinformation that can cause disturbances. Some are also using social media networks to propagate misinformation with an intent to disturb the peace. Such activities must be monitored and reported to the authorities. People who love Sabarimala and Kerala must not fall for such misinformation that is part of a propaganda."
2018-11-1711:38 (IST)
Activist Trupti Desai greeted by protesters outside Mumbai airport
After spending more than 12 hours at the Kochi airport gender activist Trupti Desai left for Mumbai from Kochi. She was planning on visiting the Sabarimala shrine on November 17, Saturday. However, protesters had gathered outside the Kochi airport and did not let her step out.
At the Mumbai airport, protesters gathered and said that she will not be allowed inside the Sabarimala temple until she turns 50.
"We've come here to protest. Trupti Desai should try going there after attaining 50 yrs of age&not before that. She won't be allowed to step inside the temple before that. There are so many devotees working towards this & stopping other women too," one of the protesters told ANI.
2018-11-1711:32 (IST)
Devotees make their way to Sabarimala
Amid high security, Ayyappa devotees began their trek up Sabarimala hill from Pamba on Saturday morning.
The temple will be open for 62 days till January 2019.