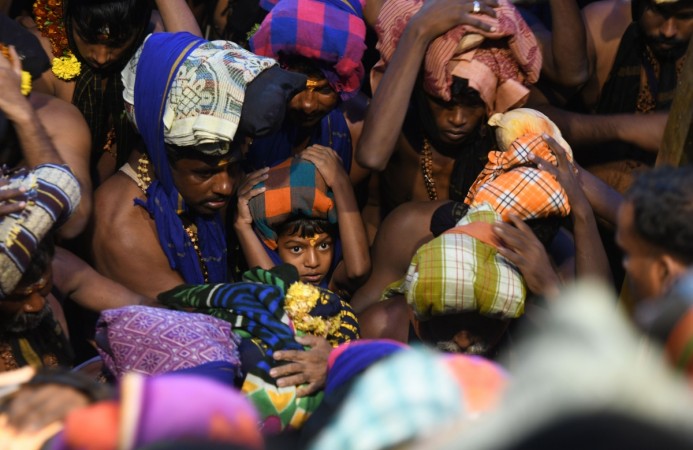 The situation in Kerala remains tense as over 70 pilgrims were sent to judicial custody on Sunday night when they protested over being asked to move from the Sannidhanam. The police had said that the gathering of the pilgrims at the Nadapanthal area of the Sannidhanam violated the Section 144 imposed in the region.
The pilgrims were sent to a 14-day judicial custody after they were produced at the Pathanamthitta Munsiff court.
On Monday night, a minor protest broke out after the police asked the pilgrims from the 'vavarunada' area of the Sannidhanam.
Due to the arrests, many outfits like the Bharatiya Janata Party, Yuva Morcha held protests across the state at Aranmula, Kochi, Kollam, Alapuzha, Ranni, Thodupuzha, Kaladi, Malappuram and Idukki.
Live Updates
2018-11-2012:15 (IST)
UDF leaders reach Sabarimala base camp
In a bid to protest against the imposition of Section 144 United Democratic Front leaders have travelled in a group of more than four to Nilakkal base camp in Sabarimala.
2018-11-2011:56 (IST)
Pinarayi Vijayan blames RSS for protests
Kerala chief minister Pinarayi Vijayan has accused the Rashtriya Swamsevak Sangh of being the masterminds behind the violent protests at Sabarimala.
According to Financial Express, he said that the protests were caused by the RSS and other right-wing organisations and not the Ayyappa devotees.
2018-11-2011:32 (IST)
Travancore Devaswom Board moved SC on Monday
Sabarimala Temple's board, the Travancore Devaswom Board moved the Supreme Court on Monday seeking more time to implement the September 28th judgment to allow women of all ages into the iconic Kerala temple.
In the application to the SC, the board said that due to the August floods, it lacked the infrastructure to accommodate the judgment and requested some more time.
2018-11-2011:29 (IST)
State Human Rights Commission at Pamba to inspect the situation
2018-11-2010:15 (IST)
Amit Shah criticises Vijayan over arrests of devotees
Bharatiya Janata Party president Amit Shah criticised Kerala CM Pinarayi Vijayan in a series of tweets. He said, "If several reports of flushing resting places for devotees and them having to spend nights next to pig droppings & dustbin are true, then Pinarayi Vijayan must realize that he can't treat Ayyappa devotees like inmates of Gulag. We won't let LDF crush people's faith with impunity."
In another tweet, he also said, "If Pinarayi Vijayan thinks he can rise against people's movement to preserve Sabarimala by arresting K Surendran, our Thrissur District President and 6 others, then he is mistaken. We stand firmly with every Ayyappa devotee, who holds the Sabarimala tradition close to his heart."
2018-11-2009:48 (IST)
Congress denounces prohibitory orders
Congress-led UDF alliance is planning on breaching the Section 144 imposed in Sabarimala.
"Vijayan has made a complete mess of the Sabarimala pilgrimage season as the police is creating havoc and has turned the temple town into a terror zone. Vijayan has lost control," Congress leader and Leader of opposition Ramesh Chennithala was quoted as saying by Financial Express.
2018-11-2009:44 (IST)
Sabarimala has become a war zone: K J Alphons
Union Minister of State for Tourism KJ Alphons said that the Kerala government has made Sabarimala into a war zone by agreeing to implement the Supreme Court's verdict on allowing women of all ages to enter the temple.
Alphons had visited Sabarimala on Monday to survey the situation. He also inspected Pamba and Nilakkal and said that the facilities in both these base camps are in very poor conditions.
2018-11-2009:37 (IST)
UDF to breach Section 144 on Tuesday
Kerala's United Democratic Front is all set to breach Section 144 imposed in the Sabarimala region.
A group of people led by former Kerala chief minister and AICC general secretary Oomen Chandy would climb the Sabarimala hill on Tuesday if Section 144 is not lifted.
Leaders who will take part in this protest are M K Muneer, PJ Joseph, Johny Nellore, C P John and other members of the UDF.