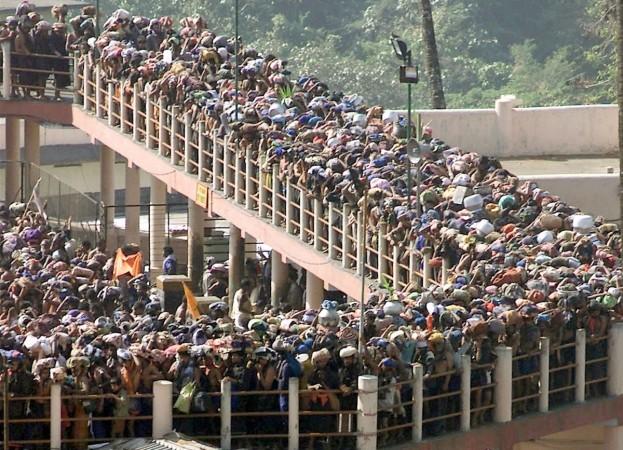 As the gates to the temple were opened yesterday and men were welcomed in, protests against letting women enter the temple also grew stronger. Multiple factions of both political and religious groups have descended upon Pamba region in Kerala as reports of violence keep coming in.
Earlier this morning, protests turned violent at the main gates located at Nilackal, reports FirstPost.
Sabarimala has also been put in a state of police lockdown as section 144 has been imposed in the region. The number of protesters reached thousands this morning with several devotees on the way to the hill temple have also joined the anti-women protests.
Suhasini Raj, a reporter from the New York Times has arrived at Pamba and even reached as far as Marakoottam, say reports. Marakoottam is about a kilometre from the shrine but a human wall of protesters reportedly stopped her, following which police had to escort her back to base camp at Pamba.
Live Updates
Section 144 extended till tomorrow says district collector
PB Nooh, the collector of Pathanamthitta District has said the Section 144 (unlawful assembly) will remain in effect till tomorrow. According to a report by ANI, Nooh has said that the situation in the region right now is peaceful and that there are no problems there. Police forces, he said have been deployed all over the Pamba and Sannidhanam areas, he added.
Further decisions, he said will be taken as per the needs from the situation.
So far, 144 has been imposed in the Pamba, Nilakkal, Elavungal, and Sannidhanam areas.
Also, Kerala DGP has made orders to his cyber cell asking them to register charges against those who are making hate posts online and on social media, reports the ANI. This includes posts related to the violence brewing in the Nilakkal and Pamba regions on social media.
Police in riot gear breaking, destroying parked vehicles at Nilakkal/ Pamba
A number of videos uploaded to Facebook last evening shows police officers dressed in riot gear vandalising and wrecking parked vehicles in Pamba. According to Malayalam news outlet MarunadanMalayali, BJP leader K Surendran sourced these videos insisting that the police and the government are in cahoots and conspiring violence in the region.
The videos apparently show the actions of police at Pamba, a base camp from where devotees trek up toward Sabarimala. They can be seen running toward bikes parked along the roadside pushing them down and hitting them with batons. Some clips show an officer breaking mirrors and denting scooters while others show officers stealing helmets off parked vehicles.
The Devaswom—governing body that runs temples in Kerala—has pointed fingers at the RSS and claim that the right-wing group is responsible for the ongoing violence in the Pamba-Nilakkal region. The RSS, they say, is implementing this as part of their political agenda, reports the MarunadanMalayali.
BJP plans sit-in at Nilackal; direct violation of Section 144
PS Sreedharan Pillai, BJP president of Kerala has said that a select number of volunteers—41—from the Bharatiya Janata Yuva Morcha (BJYM) will stage a sit-in at Nilackal. This is in direct violation of CrPC Section 144 that was imposed earlier this morning in the region after protests turned violent. Pillai said that the BJP handpicked 41 volunteers because they reportedly want to make sure that outsiders do not get into the protest and create any sort of trouble.
Pillai also reportedly added that along with the sit-in, the BJP will carry out prayer meetings in the town of Nilackal and protest against the Supreme Court's order to open the temple doors for women. They want to keep women out of the temple till it is closed after the monthly pooja comes to an end on October 22, reports FirstPost.
Chief priest requests menstruating women not to enter temple as agitators might feel hurt
Kantararu Mohanaru, the thantri (chief priest) of Sabarimala temple, has made a statement to a local Malayalam news channel asking women of ages 10–50 not to attempt entering or visiting the shrine this pooja season. The ritual will be "marred" if women come inside the temple, reports FirstPost.
He added that "We have full respect to women. The restriction is only for the women belonging to a particular age group." He appealed to those who want to enter saying that, "they must realize the custom being followed by the temple and desist from their attempt to come to the temple."
He added that those against the Supreme Court order, including the devotees might "feel hurt" if anybody tries to break the custom.
He then directly appealed to menstruating women and asked them not to come to Sabarimala till the issues are all resolved, notes the report.
News crew attacked yesterday gains access to FIR filed against assailants
Journalist Radhika Ramaswamy and crew were reported to have been attacked by a group of protesters yesterday near the Sabarimala temple.
As part of News 18, she along with her camera crew were attacked in their vehicle. While the assailants were caught on film, none of them has been identified as yet, notes the report.
Section 144 in effect at Erumeli
Section 144 of Criminal Procedure Code (CrPC) is now in effect at Erumeli, a base camp on the way to the Sabarimala temple. Movement of buses, auto-rickshaws, and other traffic has been halted in the town.
Small shops that are normally open during hartal have also been closed, reports the Indian Express. Devotees on the way to the shrine passing through Erumeli were also reportedly stopped.
Kerala ministers support devotees, call agitation 'anti-people'
EP Jayarajan, a senior minister in Kerala, has said that agitators and people creating blockades for devotees to freely worship their God would bring "Ayyappa dosham" (the ire of Ayyappa) on themselves. He added that devotees need to complete their vrata (penance) at Sabarimala.
He said that this agitation was, "anti-people, anti-constitutional and anti-law. The government will give protection to devotees who are coming to offer worship at Sabarimala."
Kadakampally Surendran, Kerala Devaswom Minister, who was reportedly present at the Sannidhanam, (altar) overseeing a review meeting with temple officials, said that the government would not allow the law to be taken into the hands of protestors and block devotees from coming to Sabarimala. It is not clear at this time if he meant only the male devotees or if he also welcomed the women into the temple.
'Not a devotee, only want to report'
NYT journalist Suhasani Raj, who is currently at Sabarimala in order to enter the temple premises earlier today, has said that she is not a devotee who wants to pray at the shrine, but is just a reporter who is trying to do her job.
Protesters reportedly even threw stones at her direction, says NDTV. She actually managed to trek on the mountain for about half an hour with police protection but was turned back because protestors started pelting stones at her.
The police have offered further protection to Raj if she does wish to complete her trek up the mountain.