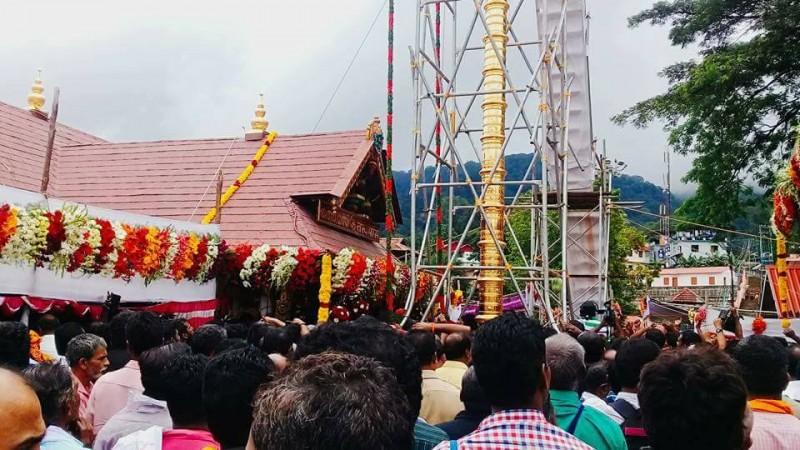 Today is the second day of the temple being re-opened and it has been a day of agitation and palpable tension at Sabarimala. More so when protestors allegedly heard that there was a woman of menstruating age—between to and 50 years of age—somewhere in the temple premises.
The police then confirmed that the "woman" in question was indeed over 50 years of age, reports NDTV. The woman, 52-year-old Lalitha, who was found trying to enter the temple along with her son, was taken to the Sannidhanam police station under the protection of officers at the site.
Lalitha went up to the temple in a group of 19, this included women, to complete her grandson's 'chorunnu'. Notes the report. When the group came near the 'nadapandal"—the staging area before devotees climb the famous 18 steps—they were blocked by protestors. Shouting Ayyappa slogans at the group, protesters reportedly stopped two women from reaching the Sabarimala Sanctum.
Both women were, according to the local police, over 50 years of age and yet, they were stopped, notes the report.
Lalitha, notes the report, was then taken to hospital as she complained of uneasiness. She along with her relatives reportedly returned and successfully offered prayers at the temple shrine.
Amid the chaos, it is being reported that an RSS leader himself broke tradition in the way he climbed up the steps to address the crowd calling for peace as the area was tense when they got to know that women had entered the premises. To climb the golden steps one need have the appropriate headgear, called the "idumudi", notes the report. He also allegedly came down the steps inappropriately.
Sabarimala now has over 1,000 security personnel on duty, this includes a 20-member commando unit as well as 100 women officers, to maintain law and order in the temple town where devotees go to worship.
The temple will be closed tonight after the special Sree Chithira Thirunal Aatta Vishesham pooja concludes. The temple will then open again between 16 November and 27 December for the Mandala Pooja Mahotsavam, according to the temple's official website.