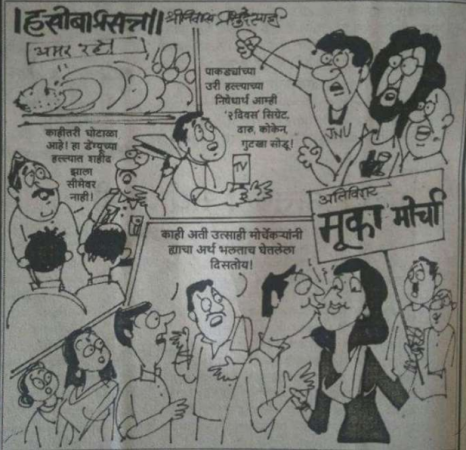 After a cartoon published on Tuesday by Shiv Sena's newspaper Saamana incensed the Maratha community in Maharashtra, the caricaturist Shreenivas Prabhudesai on Wednesday has apologised.
The newspaper's office in Navi Mumbai and printing press in Thane were attacked after the controvertial cartoon was published. Issues of the newspaper were burned in Aurangabad. Maratha activists were booked for damaging the office in Saanpada.
In the cartoon, a man can be seen kissing a woman and the message reads, "mooka morcha" or kiss protest instead of "mook morcha" or silent protest.
The cartoon was not meant to hurt the sentiments of any group or community, particularly the Marathas, said Prabudesai in a statement. He added that he was not a political cartoonist and only draws things that would provide comic relief.
"Despite this, if it has hurt anybody's feelings, I am sorry for the same," Prabhudesai said, expressing regret for his creation. "However, my September 25 cartoon has found objections from a particular community for which I am sorry. This has resulted in a political controversy in which the Shiv Sena and 'Saamana' were dragged," said Prabhudesai.
The Maratha community has been protesting ever since a 15-year-old Class 9 schoolgirl was gangraped and brutally murdered in July in Ahmednagar district. The community, since then, has asked for reservations and has also asked for amendment to the Scheduled Castes Schedules Tribes (Prevention of Atrocities) Act. The boys who had attacked the girl were from the Scheduled Castes community. They also demanded that the men be hanged.
Political parties take advantage
Bharatiya Janata Party (BJP) Mumbai President Ashish Shelar told Saamana executive editor Sanjay Raut, an MP, that the apology will not be accepted and they should publicly apologise to the Maratha community. While other political parties like the Congress, Nationalist Congress Party (NCP) and leading Maratha organisations demanded an apology from Shiv Sena President Uddhav Thackeray.
Shiv Sena senior cabinet minister Subhash Desai accused the Congress-NCP of fuelling the protests in favour of reservation for Marathas and hampering the peaceful atmosphere in the state.