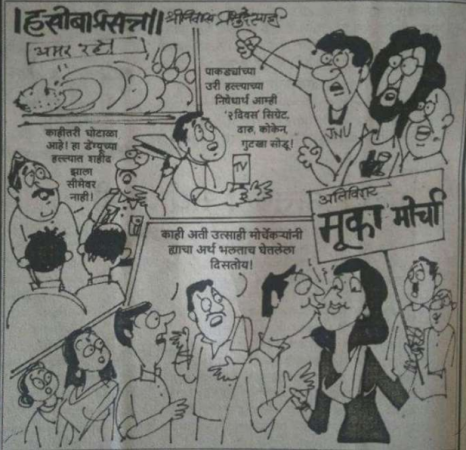 Shiv Sena's newspaper, Saamana, further enraged the Maratha community in Maharashtra with its cartoon ridiculing their protests for reservations. The newspapers office was attacked on Tuesday after the cartoon was published.
In the cartoon, a man is seen kissing a woman and the message on a placard held up by the woman reads "Mooka Morcha" or "kiss' protest" instead of "Mook Morcha" or "silent protest."
The Congress spokesperson, Sachin Sawant, called the cartoon an insult to the community. It has fuelled more protest marches and criticism over social media.
The Maratha community has been protesting ever since a 15-year-old Class 9 schoolgirl was gangraped and brutally murdered in July in Ahmednagar district. The community, since then, has asked for reservations and has also asked for amendment to the Scheduled Castes Schedules Tribes (Prevention of Atrocities) Act. The boys who had attacked the girl were from the Scheduled Castes community.
The SC/ST (Preventing of Atrocities) Act was formed to protect the minority communities from atrocities by the Upper Caste. However, there have been allegations that the Act is wrongfully used to accuse members of the Maratha community.
The Maratha community also demanded that the perpetrators be given death penalty. The incident had been compared to the the 2012 Delhi gangrape case.