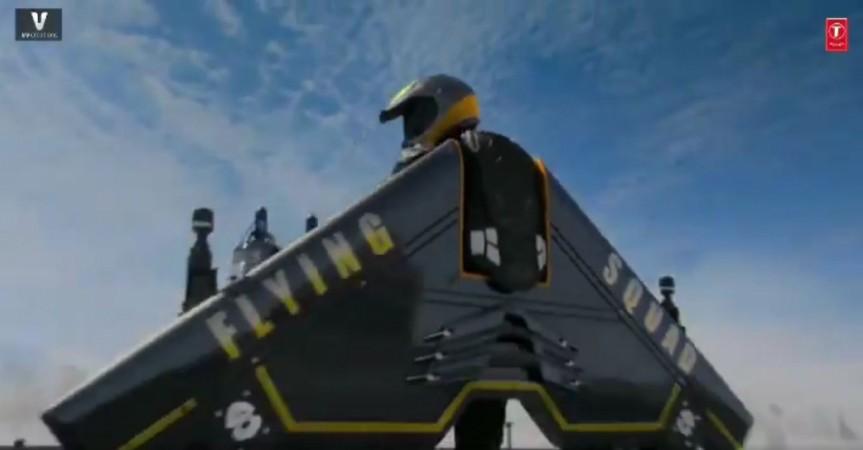 The makers Saaho have released a new teaser of the movie after its making video crossed 15 million digital views. It appears that the scene featuring Baahubali actor Prabhas' jet wings suit will stun the viewers.
The bosses took to Twitter to share their excitement on the response. They shared the new teaser of Saaho on October 27 and caption it with, "#ShadesOfSaaho Chapter #1 continues to break records & create history! 15 Million+ Views & counting! Watch it here if you haven't already: #Prabhas @ShraddhaKapoor @sujeethsign @UV_Creations @TSeries
This new teaser of Saaho shows Prabhas, who is wearing the jet-wings suit, is seen rushing down from a skyscraper and then move ahead as fast as 200 KMs per hour. This clip ends with a note on 15 million views for making video of Saaho. The scene of the jet-powered machine is on par with Hollywood standards and will be one among the attractions of the movie.
The latest teaser of Saaho has not only impressed the viewers but also increased their curiosity and expectations. Several fans are waiting to know about the release date of the movie starring Prabhas, Shraddha Kapoor, Neil Nitin Mukesh and Evelyn Sharma.
Natasha_bochkova: I'm so so excited and waiting for the movie, it seems so intriguing
Kashyap_zafrani: Amazing action just like Hollywood movies ….it will be a block buster for sure.
Vikashraja1892: Few people thinking this is final output video. This is jus demo video. Not real one. Even the teaser already released is not for real. Demo teaser. Jus wait for real stuff. This movie going to be massive.
Shraddha14nov: Superb @neilnitinmukesh it's fabulous whn is it releasing?
Written and directed by Sujeeth Reddy, Saaho is an action extravaganza and its shooting is underway. The makers released 'Shades of Saaho chapter 1 on October 23, which happened to be the 39th birthday of Prabhas. This making video, which offers a glimpse at the dare-devil stunts, registered 10 million views in just 24 hours and smashed several pre-existing records.