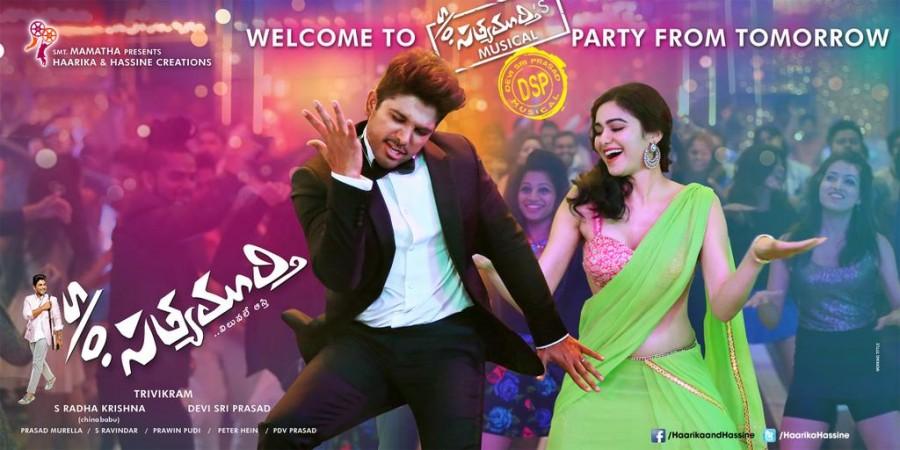 Allu Arjun's "S/o (Son of) Satyamurthy", which was released in 1,400 screens on 9 April, has done record-breaking collection at the worldwide box office in eight-day-extended first weekend. The Trivikram Srinivas directorial has turned out to be the biggest money spinner of the year.
Prior to its release, "S/O Satyamurthy" had created a lot of positive buzz in the media. The hype surrounding the film helped it to register huge amount of advance booking for its opening weekend. In many centres, the screening of the movie began in the wee hours on its opening day and it had a considerable amount of footfalls everywhere.
"S/o Satyamurthy" registered an average of 90% occupancy in the regular shows on Thursday. The movie ran to packed houses in many theatres not only in Andhra Pradesh and Telangana, but also in other parts of the world. The film did superb collection at the box office on the first day and became the biggest opener for Allu Arjun, beating the record of his previous film, "Race Gurram".
The Allu Arjun starrer bagged mixed reviews from both critics and viewers and the word of mouth took toll on its collection, which went down over the weekend. Its business further dipped on Monday and it continued to drop on the following week days. Overall, the family drama has performed better in 'A' centres than in 'B' and 'C' centres across the globe in its opening week.
"S/o Satyamurthy" has collected approximately ₹43.24 crore net (₹60+ crore gross) at the worldwide box office in the eight-day extended first week. Produced with a budget of ₹40 crore, the film has fetched ₹54 crore from its distribution rights. The film has been successful in getting back over 80% of the investment to its distributors in just eight days.
However, in its second week, "S/o Satyamurthy" will clash with OK Bangaram, Ganga, Budugu and Varadhi, which have hit the screens on 17 April. Having snatched some amount of screens, the new releases are sure to take a toll on the business of the Allu Arjun starrer in its second week.