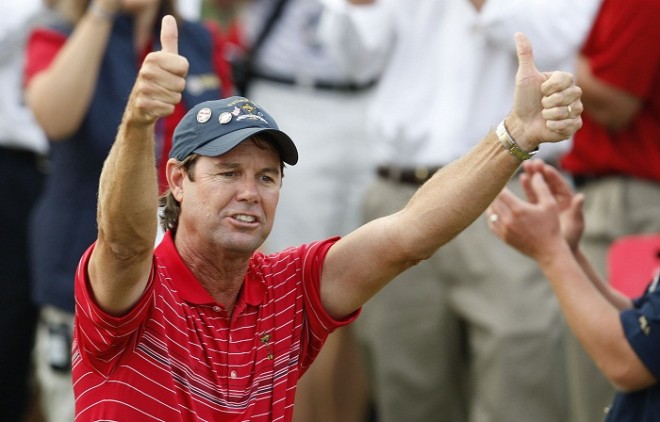 After Lee Westwood's comments on Tiger Woods having an adverse effect as vice captain on the US team for the Ryder Cup made news, former US captain Paul Azinger believes such words from the Englishman will only spur the home team to do well in the competition. The Ryder Cup 2016 is set to start on September 30, and a wonderful contest is on the cards.
There are some big names in both the teams, including Rory McIlroy, Henrik Stenson (both Europe), Dustin Johnson and Jordan Spieth (United States). All these stars have to be on top of their game to help their respective teams emerge victorious.
US captain Davis Love had earlier spoken about how Woods' presence can help the team in Ryder Cup, and now Azinger has joined in the chorus too. Azinger is sure that Woods will be beneficial to the US team in the competition.
"They (Westwood's comments) could motivate the American team as well. The times I have been on the same team as Tiger he was anything but a divisive figure. He can be imposing but he can also be the nicest guy in the world. It just depends on the situation," Daily Mail quoted Azinger as saying.
"He really took advantage of the intimidation factor when he was in the prime of his career but I don't believe he is intimidating personally, and so I think he is going to be terrific in the team room. Great players don't need lessons, they need reminders and Tiger has the ability to remind them there is no short cut to winning, that you have to be prepared to win. He will preach that, and it will be beneficial."
After winning the Ryder Cup in the last three editions (2010, 2012 and2014), Europe are gunning for their fourth straight win. Europe have been brilliant in the last seven competitions, winning the prestigious title six times.
But with players like Johnson and Spieth, the US will hope to deliver in 2016, and clinch the Ryder Cup this time.