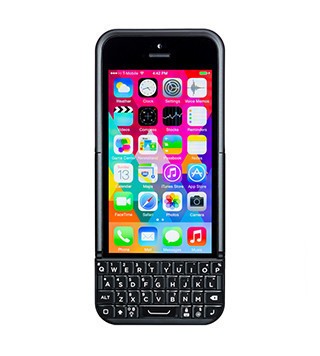 Ryan Seacrest's entertainment skills are not saving him from the legal troubles. Typo, a keyboard making company for iPhones co-founded by Seacrest, has been ordered to pay BlackBerry a whopping sum of $860,000 in violation of an injunction barring sales of its original iPhone keyboard case.
Although the money goes into BlackBerry's treasury, the case against Typo is still in motion. Typo's misconduct with court's orders, which could have been avoided, caused the startup its additional revenue from illicit sales.
Typo Products builds physical keyboards that attaches to the iPhones. The company started pre-selling its keyboard cases for iPhone 5 early last year for $99. Soon after, Typo's keyboard design attracted BlackBerry's attention and was sued by the Canadian smartphone maker immediately. BlackBerry accused Typo of copying its flagship keyboard design, which has been in use for several years now.
"We are flattered by the desire to graft our keyboard onto other smartphones, but we will not tolerate such activity without fair compensation for using our intellectual property and our technological innovations," Blackberry's general counsel Steve Zipperstein said last year, Business Insider reported.
Shortly after BlackBerry filed a lawsuit against Typo, the court issued a preliminary injunction on the sales of iPhone keyboard cases. To overcome the injunction, the company redesigned its keyboard and continued the sales of its new product under a new name, Typo 2. But the court's order did not stop the company from accepting orders for the older keyboards, which were shipped to customers in the US as well as international countries.
BlackBerry sought $2.64 million in damages from Typo's violation of the injunction. But Judge William Orrick charged Typo only a third of it, claiming it covers the additional revenue that "Typo could have expected from its illegal conduct," according to the court's order documents obtained by Re/Code.