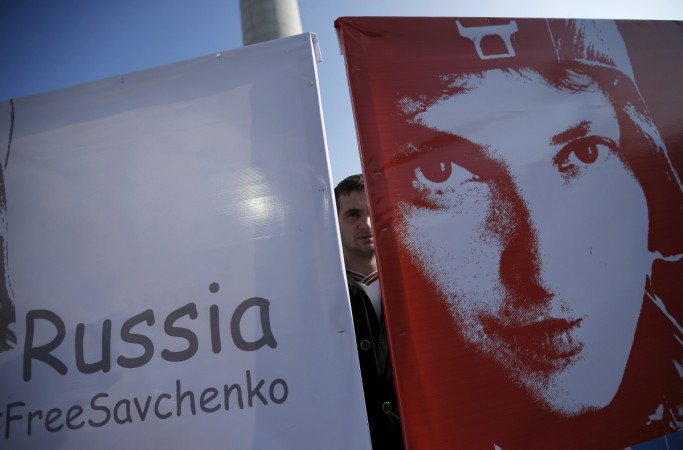 UPDATE 16:55 p.m. IST: While earlier reports said the court had convicted the Ukrainian pilot of complicity in murder, the verdict is still being read and is likely to conclude Tuesday.
Original Story:
A Russian court Monday found Ukrainian pilot Nadezhda Savchenko guilty of complicity in the killings of two Russian journalists in Ukraine in 2014, adding the crime was motivated by "hatred and enmity" towards Russian-speaking people. Savchenko, who was part of a Ukrainian volunteer brigade, was accused of relaying the coordinates of two Russian journalists who were then killed in artillery fire near Ukraine's Lugansk.
The Donetsk court in Russia's Rostov region announced the verdict Monday, according to Russia's Tass news agency. The Ukrainian pilot had been charged with the murder of Russian journalists Igor Kornelyuk and Anton Voloshin, attempted murder of civilians as well as illegal border crossing. She was captured by pro-Russia rebels in June 2014.
The court described Ukrainian military commander Sergey Melnichuk as the "organiser of the crime."
"As the Aidar battalion's commander he acted as the crime's mastermind in accordance with a plan drawn up in advance and supplied Savchenko with gear and equipment."
Savchenko, 34, who has been detained in Russia since 2014, went on a hunger strike this month, and her lawyers had predicted a guilty verdict even before Monday's judgement.
"We do not cherish illusions and are aware that the verdict will be guilty and that the punishment will be lengthy. But Nadezhda is not upset, she perceives the verdict with laughter," the Ukrainian's lawyer had told Tass.
The state prosecution had sought 23 years in prison and a fine of 100,000 rubles ($1,500) for Savchenko. the quantum of punishment will be announced Tuesday.
United States President Barack Obama had reportedly pushed for Savchenko's release during a phone-call with Russian President Vladimir Putin earlier this month, but the latter resisted, stating, according to the Associated Press, "interference in our courts isn't permissible and not possible."