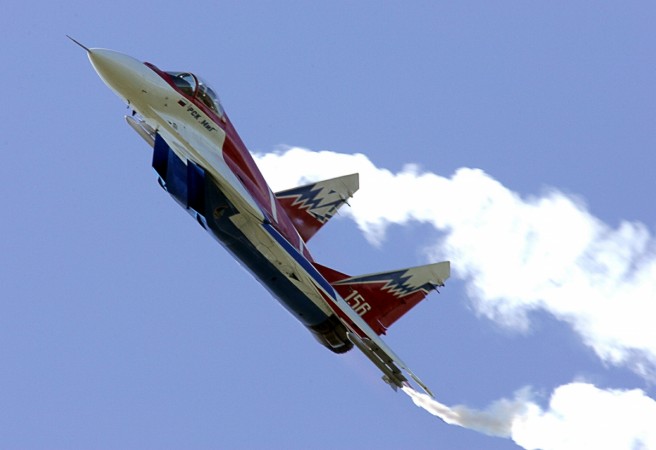 In view of the rising tensions with NATO forces in Europe, Russia has moved swiftly to donate aircraft and tanks to Serbia.
Russia reviving Soviet era 'nuclear trains' loaded with ICBMs
Russia announced on December 21 that it had agreed to a major arms donation package with Serbia that will be inclusive of six surplus MiG-29 'Fulcrum' fighter aircraft, 30 T-72 tanks and 30 BRDM-2 armoured reconnaissance vehicles.
The Serbian Air Force had a long-standing requirement for the aircraft, IHS Jane's Defence Weekly reported.
Discussions were also held between Serbian Prime Minister Aleksandar Vucic and Russian defence minister Sergei Shoigu for donating air defence systems. Serbia, the report noted was hoping to receive Buk-M2 and 2K22 Tunguska systems. Sales of these have not been finalised. But talks between the two on air defence systems would continue.
Russian Aerospace Forces are decommissioning the MiG-29s, which will be delivered to Serbia during 2017, after undergoing significant work before operationalisation with the Serbian Air Force.
Russia is wary of NATO and US designs in the countries that were once considered closer to Moscow. While Serbia which is still negotiating for EU candidacy, Serbian Prime Minister Aleksandar Vucic has repeatedly said that there are no plans to join NATO.
NATO website notes that it has steadily built cooperation and dialogue with Serbia and has said that it fully respects its policy of military neutrality.
In January 2015, Serbia agreed to deepen its cooperation with NATO through an Individual Partnership Action Plan.
Russia however is keen to beef up Serbia defences with new weapons, as tensions between Serbia and Croatia, both former Yugoslav republics rise. NATO has been reportedly arming Croatia.
Russia has opposed not only Serbia but also other Balkan countries from joining NATO and has also been campaigning against them acceding to the EU.
Russian President Putin has "confirmed the strategic character of the Russo-Serbian partnership," and dialogues between the two have "good possibilities to realise bilateral projects of mutual interest," Putin said in a letter to Serbian President Tomislav Nikolic.
Putin also said that Russia would be following Serbian Presidential elections in 2017 with "full attention."