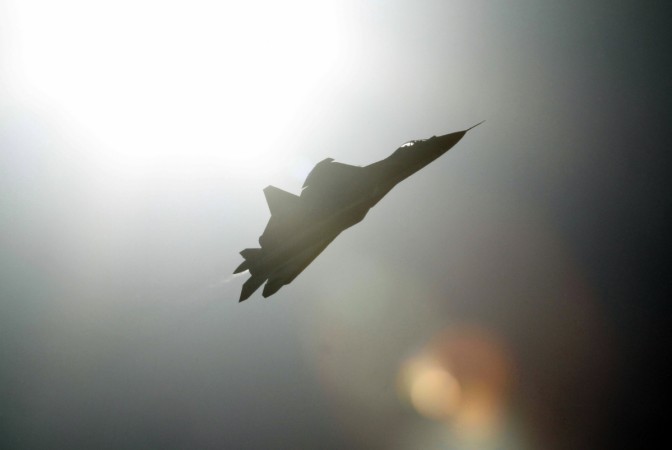 Russia has tested 30mm autocannon -- designed for Sukhoi PAK FA T-50 fifth generation fighter jet -- at a ground testing unit of United Aircraft Corporation (UAC), outside Russia.
This new gun is called 9-А1-4071K and is said to be the upgraded version of the Gryazev-Shipunov GSh-30-1 aircraft autocannon, which is used in Su-30, Su-35 and other aircraft. The new gun has been designed by KBP Instrument Design Bureau, RT reported.
The over one minute video showcases the autocannon performing live-firing on a mounted front part of T-50 that simulates the real version.
The weapon is apparently the lightest in its class and weighs only 50kg. It features a high rate of fire with up to 1,800 rounds per minute.
The autocannon is also able to fire high explosive, fragmentation and incendiary munitions. Moreover, it is claimed that the armament can pierce through some of the most modern armoured vehicles.
Further, to avoid detonation of the high explosive rounds inside the heated barrel, the manufacturer has added a special evaporation cooling system.
Though details of the T-50 are not forthcoming, sources have told RT that the gun has an effective range of 200m to 800m in terms of aerial targets. When it comes to the ground targets, its effective range is 1,200m to 1,800m. It is believed that the gun can be even more accurate and deadly if combined with laser range-finding and targeting system.
Apart from the autocannon, images have also surfaced of new angular missiles for the T-50 jets.
Mass production of the T-50 is expected to start soon and the first aircraft will be available with the Russian Air Force in 2017.
The Russian PAK FA T-50 will be the basis of Indian fifth generation fighter aircraft project (FGFA). India is expected to buy 100 aircraft. India and Russia are also expected to sign a contract that may see India investing $4 billion over the years.