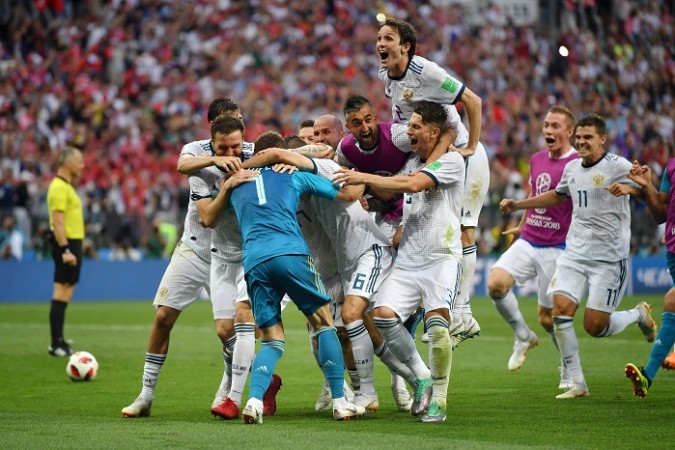 After all that excitement, all that drama of the first day of the round of 16 matches of the Fifa World Cup 2018, the first match of the second day served up the exact opposite – no drama, no action, nothing, just some random passing for 90 minutes, and then extra time, before it all came to life in a penalty shootout, as Russia edged Spain in Moscow.
The 120 minutes of football in this match will, in the future, be prescribed as the perfect medicine for insomniacs, with Spain having pretty much all of the ball, but with no end product.
It brightened up when the penalty shootout came calling after the match ended 1-1 following extra-time
Andres Iniesta, Gerard Pique and Sergio Ramos scored for Spain. Fedor Smolov, Sergei Ignashevich, Aleksandr Golovin, Denis Cheryshev all netted for Russia.
Koke and Iago Aspas, however, missed for Spain, with Igor Akinfeev making a couple of smart saves, and it was bedlam in Moscow as Russia celebrated a famous win.
The first half was, well, to put it kindly, uneventful, barring those two goals, of course.
Spain, as is their wont, had all of the possession, with Russia, already starting with a back five, pretty much putting every player behind the ball.
The result of that, particularly with the Spain passing so incredibly slow, was a first half that looked more like the one you would see in a friendly or a dead rubber, rather than a knockout match.
The big moments came in the 12th minute and five minutes before halftime, but in between and before, there was absolutely nothing to write about.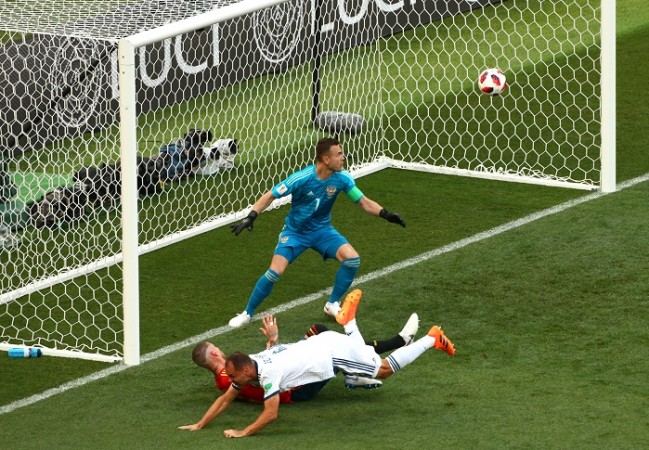 Spain opened the scoring in slightly fortuitous circumstances, with Marco Asensio, pretty much the only time he was relevant in the game, whipping in a free-kick and the ball going in off the heel of the 38-year-old Russia defender Ignashevich. Ignashevich knew nothing about it, because he was busy wrestling Sergio Ramos to the ground, and while Ramos tried to claim it, the final touch came off the Russia defender. And frankly, had the ball not gone in, Spain might have been given a penalty for what looked like a foul.
You would have though an early goal would get this last 16 match in Moscow going, but no, it changed nothing at all. Spain kept passing without too much intent and Russia seemed happy to let them do that.
So, the only way to get that equaliser was going to be via a set-piece, and after Gerard Pique handled a possibly goalbound header from Artem Dzyuba, the Russia striker himself stepped up to slot the penalty home.
That was the boost that Russia needed going into half-time, but they nearly threw the advantage away when Diego Costa, invisible up to that point, was given a couple of chances just before the half-time whistle, with Akinfeev, thankfully for the hosts, up to his task.
Just to emphasise how pointless Spain's dominance of the ball was, this statistic said it all – they completed 400 passes in that first 45, but they had all of four touches inside the Russia penalty area.
The second half wasn't that different, although, there was a little bit more work to do for Akinfeev.
Iniesta, interestingly dropped from the starting XI for this last 16 match of the Fifa World Cup 2018, seemed to make a difference after coming on with about 30 minutes to play, with the veteran midfielder providing that extra intensity that Spain were clearly lacking.
Iniesta nearly stole the win for Spain right at the end as well, when he struck a really nice shot from outside the area, but Akinfeev got down in the nick of time, preventing the ball from hitting the bottom corner.
Will extra time, with Russia tiring, at least produce some chances? No, not really.
There were one or two moments, chief of them coming when substitute Rodrigo turned on the pace to force a save from Akinfeev, but that was pretty much it, with Russia more than happy to take this to penalties – the crowd celebrated going into a penalty shootout like they had won the World Cup, which said everything really.
Those celebrations, though, would reach another level as Akinfeev stopped Aspas' penalty from going in with his foot.