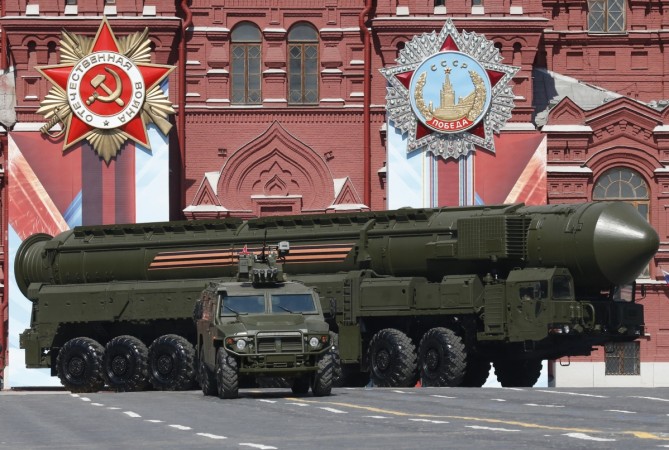 Russia has revealed the image of a new intercontinental ballistic missile (ICBM) RS-28, dubbed as a Super Nuke missile, amid rising differences with the US.
The missile showcased is perhaps one of the most potent nuclear missiles, capable of large scale devastation that Russia showed in the post-Cold War world.
Russia intends to replace its Cold War era R-36 (NATO SS-18 Satan) missiles with the RS-28 Sarmat (Satan 2).
The image of the missile was made available on the website of the Makeyev Rocket Design Bureau, which is tasked with the missile's design.
The RS-28 missile has the capability of delivering warheads of 40 megatons and has the top speed of 7 km per second. It weighs around 100 tonnes.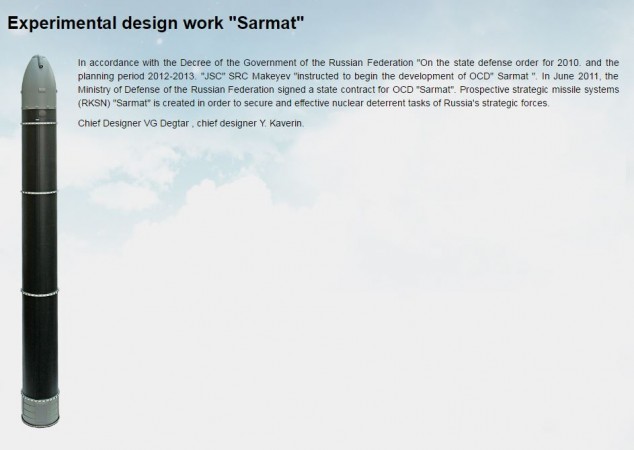 The missile contains 16 nuclear warheads and can destroy an area of the size of France or Texas, according to Russian news network Zvezda. The missile is expected to have a range of 10,000 km, thus covering European cities like London or Paris. It can also reach American cities at the east coast and the west coast.
The message next to the missile reads: "In accordance with the Decree of the Russian Government 'On the State Defence Order for 2010 and the planning period 2012-2013', the Makeyev Rocket Design Bureau was instructed to start design and development work on the Sarmat."
The missile can outfox any modern anti-missile shield and can evade radars.
The missile is expected to come into service by later 2018. Russia had in 2013 revealed that it had started to deploy a new type of missile.
Reports noted that the sudden release of the image was an aggressive posturing by Russia, with the US Presidential hopefuls increasingly debating about President Putin and his policies. The US recently accused Russia of hacking John Podesta's (Chairman of the 2016 Hillary Clinton presidential campaign) email and of bombing civilian areas in the city of Aleppo, Syria.