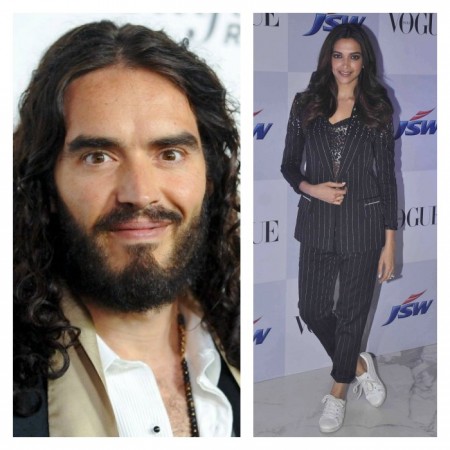 British comedian Russell Brand, who is in Bengaluru, India for the 2015 edition of Comedy Central Chuckle Festival surprised everyone when he expressed his desire to seduce Deepika Padukone and marry her.
"The person I could potentially fall in love with and marry while I am in India, Deepika Padukone. She is popular," The Indian Express quoted Russell as saying.
"If by the end of the night I am not arrested or censored, we are going to look and see if I can perhaps seduce Deepika Padukone. If anyone has her phone number, let me know, we can ring her in the course of the evening."
His satirical comments won hearts at the event along with Vir Das and Ajay Samson. From jokes on his wedding and censorship to his love for Indian deities, Brand set the stage on fire taking digs at every possible issue. Adding to the merriment, he greeted everyone with 'Namaste'.
During the electrifying show, he also said that he wished to be like Bollywood Khans – Salman and Shah Rukh.
He picked on several things that he noticed in India. He said that there are lot of Bollywood films that have lasted longer than his marriage. The 40-year-old entertainer married pop star Katy Perry in a royal manner in Rajasthan in 2010, but their relationship didn't last long.
Brand sent Bangaloreans into fits of laughter during the weekend and entertained Mumbai on 28 June.