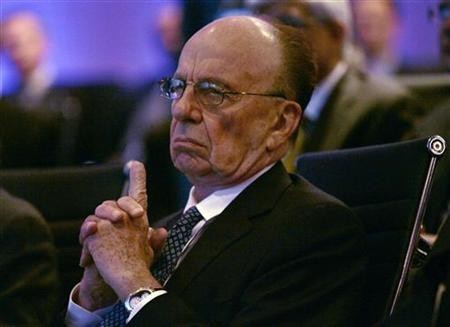 News Corp Chairman Rupert Murdoch is in for a new beginning with the split of the media-entertainment conglomerate coinciding with the breakup of his 13-year-old marriage.
According to an AFP report, the company had some $34 billion in revenue worldwide. The split of the multinational company becomes official on Friday after the US markets publicly traded the two independent companies.
"The separation will unlock the true value of both companies and their distinct assets, enabling investors to benefit from the separate strategic opportunities resulting from more focused management of each division," Murdoch had stated last month.
The report said that 21st Century Fox benefited the most from this split as it landed with Fox Studios in Hollywood and global cable and broadcasting operations including National Geographic and Star.
Fox Group has pay-TV services in Europe and Asia, including Sky Deutschland (Germany), Sky Italia and stakes in BSkyB (by BBC and Sky Television in UK) and Tata Sky (by Tata group in India).
The 'new News Corporation' will focus on newspapers in Britain, Australia and the United States, including The Wall Street Journal and The Times of London. It also includes digital real estate services, book publishing, digital education and sports programming and pay-TV distribution in Australia, reported AFP.
The company announced the news of separating the two - publishing and media and entertainment, on the same date (28 June) last year.
This move was partly due to angry shareholders about the phone hacking scandal in Britain that caused a reputational damage to the publishing division of News Corp.
But Murdoch retains his commitment to the print world. "People are buying fewer papers but they are equally getting their news in many other forms," he told AFP. "People will pay for news; it's the most valuable commodity in the world. People need to know what's going on."
As his empire was experiencing certain mergers and acquisitions, Murdoch's personal life was going through a series of unions and breakups as well.
Earlier this month, Murdoch filed divorce papers from his third wife Wendi Deng, who is 38 years his junior.
Deng was prompted by newspapers as a 'tiger wife' when she counter-attacked the man who threw a pie at her husband who was giving a testimony before a British Parliament Committee.
Deng does not have stocks or voting rights in News Corp and hence the divorce is unlikely to affect the media empire, said sources familiar with the company.
Murdoch will continue to lead both firms after the split, as Chairman and CEO of 21st Century Fox, and Executive Chairman of the new News Corporation.