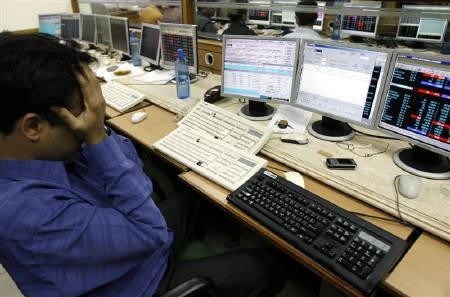 The Indian markets settled lower on Thursday after opening on a record high. The BSE index fell 0.07 percent to settle at 25823.75 points, after hitting a record high at 25999.08 points on Thursday.
The Nifty too fell 0.13 percent to settle at 7714.80 points after hitting a high at 7754.65 points. Also, the trading was stopped for three hours in the day, due to a network outage in BSE Mumbai.
The Indian Rupee opened weaker at 59.67 per Dollar on Thursday, versus its previous closing of 59.69 a Dollar on Wednesday.
The Rupee weakened on Thursday at 59.67, after hitting its highest level of 59.52 a Dollar since June 13. Moreover, on Wednesday, overseas investors bought shares worth $216 million, whereas local shares rose 0.3 percent in early trade, reported Reuters.
At 3:20 pm, one Dollar commensurate ₹59.74, while the price of other major currencies versus Dollar was recorded as below:
| | | | |
| --- | --- | --- | --- |
| Symbol | Currencies | Value Vs. Dollar | Value Vs. Rupee |
| EUR | Euro | 0.7320 | 81.60 |
| JPY | Japanese Yen | 101.9500 | 0.586 |
| GBP | British Pound Sterling | 0.5834 | 102.44 |
| CAD | Canadian Dollar | 1.0650 | 56.1296 |
| USD | Hong Kong Dollar | 7.7508 | 7.7077 |
| CNY | Chinese-Yuan Renminbi | 6.2130 | 9.6052 |
| AUD | Australian Dollar | 1.0672 | 56.0105 |
"Now that the psychological level of 60 has been breached and with a close of below 59.70, there could be potential further gains for the rupee. But RBI can step in to buy at any point," Reuters quoted Paresh Nayar, head of foreign exchange and fixed income trading at FirstRand Bank, on Wednesday.
"The budget is going to be the most keenly watched budget after many years. The forex market will be impacted based on the outlook for inflows in various sectors based on specific measures taken," he added.
On Thursday, the reference rate for the US Dollar and Euro was fixed at 59.7225 and 81.5415 by the Reserve Bank of India, whereas the value of one British Pound and 100 Japanese Yen was fixed at 102.4539 and 58.62 respectively. But on 2 July, the value of one British Pound and 100 Japanese Yen was fixed at 102.8982 and 59.05.
Moreover, the Indian central bank bought 10 securities worth ₹34 billion at eight percent, during repo auction on Thursday morning.
According to Reuters poll, Asian currencies will probably strengthen till the end of 2014 and might weaken in early 2015. According to the predictions, Chinese Yuan, Indonesian Dollar and Taiwan Dollar will surge till December and might depreciate later.
"There will be some generalized dollar strength late this year and early next year due to increasing expectations of interest rate hikes in the U.S.," Reuters quoted Vishnu Varathan, senior economist at Mizuho Bank in Singapore.
Experts have expected Rupee to trade at 60 per Dollar by December.
However, on Thursday, Sensex opened higher by 34.48 points at 25875.75 points, whereas the Nifty recorded a surge of 13.35 points with the opening figure of 7738.50 points at 9.15 am.