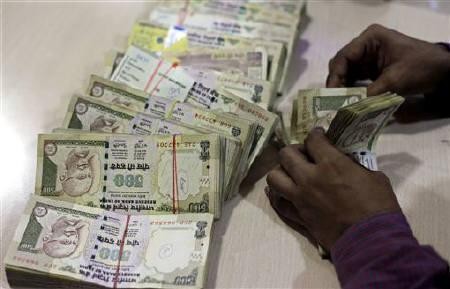 Indian currency took another beating on Monday, sinking to a record low of 54.99 against the US dollar in the late afternoon trade session.
The rupee stood at 54.96/97 to the dollar at 4:26 p.m. (1056 GMT), and had earlier plunged to the key psychological level of 55 to the dollar, Reuters said. High dollar demand, negative global cues and heavy foreign fund outflow were amongst the factors for further weakening of the Indian currency.
The fall to 54.99 is the rupee's fourth consecutive low recorded, and is a drop of over one percent from 54.42/44 close on Friday.
There has been no intervention from the Reserve Bank of India in the recent session, traders said according to the news service. Finance minister Pranab Mukherjee on Sunday said that the government is keeping a close watch on the depreciating value of the currency and that the government "is not sitting idle", reports said.
Meanwhile, the BSE bench mark reached 16183.26, up 30.51 points, while the Nifty benchmark gained 14.60 points to 4,906.05.