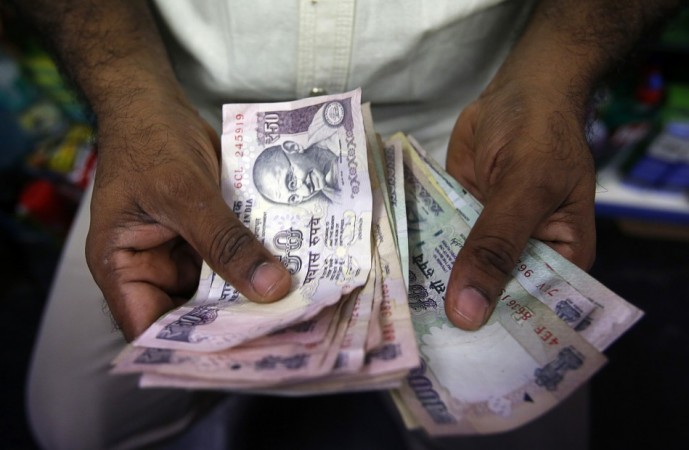 Rupee gained in early trade on Friday by 19 paise, as it opened at 59.14 per dollar compared to previous day's closing value at 59.33-a-dollar.
European Central Bank's meeting on 5 June has brought about a positive response in rupee and stocks and it is likely to later announce policy easing measures to tackle the pitfalls of disinflations.
Pramit Brahmbhatt of Veracity told moneycontrol to expect the rupee in a range of 59-60 per dollar.
''The stimulus from ECB to the banks has spread positive sentiment globally. Taking cues from this, we expect local equities to trade strong resulting in appreciation of rupee,'' Brahmbhatt pointed out.
But, at 10:00 am, the rupee declined to 59.1950 from 59.14, while USD-HKD and USD-SGD surged by 0.00 percent and +0.005 percent respectively.Hence, among 13 Asia-Pacific Currencies, only two appeared to be surging.
The Sensex and Nifty surged at 25,232.48 and 7,522.60 at 10:00 am today and gainers at early trade in BSE were ONGC, DLF, GAIL, BPCL and Reliance. However, Infosys, TCS, Hindalco and HCL Technologies lost out.
On 5 June, Thursday, the 30-share BSE index created history by crossing the 25,000-mark for the first time; and the 50-share NSE index closed at 7,474.10. Sensex hit the day's high of 25,044.06, and settled at a closing high of 25,019.51 points. Meanwhile, Nifty stretched at 7,474.10 breaching previous record closing high of 7,415.85 on Tuesday.
The market figure was dominated due to shares of metal, oil and gas, power, PSU's, FMCG and IT. Sentiments were bullish following ECB's meeting and foreign inflows and also thrived on optimism of the new government. Metal stocks- Sesa and Sterlite Ltd and Tata Steel lead the market .
''We may see Sensex levels at 30,000 before budget,'' Motilal Oswal, CMD from Financial Services told The Financial Express.
Bullish market sentiments have also influenced Mutual Funds rates and BSE midcap and small cap indices gained 1 and 1.4 percent respectively.