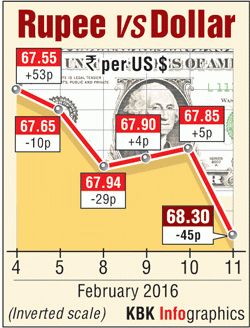 The Indian rupee has fallen sharply since the beginning of the year and is now less than a percent away from its all-time low of 68.85 to the US dollar.
Based on Thursday's closing of 68.30, the domestic currency is merely 0.80 percent away from 68.85 recorded on Aug.28, 2013, when the Congress-led UPA was in the government.
The rupee had closed at 66.16 on Dec.31, 2015.
The fall in the currency is largely attributed to persistent selling of Indian equities by foreign institutional investors (FIIs) who have been net sellers on Indian stock markets for the past few months.
Provisional data released by the NSE on Thursday indicates that the FIIs were net sellers of Indian equities to the tune of Rs 1,112.66 crore on Feb.11 when the stock markets witnessed a steep fall, with the Sensex losing over 800 points and the NSE Nifty plunging to breach the crucial 7,000 level.
Heavy buying by domestic institutional investors (DIIs) on Thursday, who were net buyers at Rs 1,222 crore (provisional data), could not stop the free fall.
The sell-off by FIIs on Feb. 11 is the highest for the month till now. On Feb. 10, they were net sellers of Indian equities valued at Rs 636.14 crore, far higher than the net sale position of Rs 39.07 crore on Feb.9.
On Thursday, the Sensex declined 807 points, or 3.4 percent, to close at 22,951.83, while the NSE Nifty lost 239.35 points, or 3.32 percent, to settle at 6,976.35.
Tata Motors fell sharply after the company's December quarter results were declared. The company's consolidated net profit declined 2 percent to Rs 3,507.54 crore, while net sales were up 3.7 percent at Rs 71,686.12 crore.
Shares of the country's top lender State Bank of India plummeted after the bank reported a 62 percent fall in its third quarter net profit due to higher provisioning for bad loans at Rs 7,949.4 crore, up 49.2 percent on a year-on-year basis.
The steep fall in Indian stock markets come at a time when the government is gearing up for presenting its second full-fledged budget on Feb.29. The negative sentiments prevailing in the stock markets have badly affected the disinvestment programme, with the government able to garner a mere Rs 12,700 crore till now as against Rs 69,500 crore targeted for FY2016. The government raised about Rs 637 crore by selling 10 percent of its stake in Engineers India Ltd.
In the midst of a weak global economic growth, falling exports, modest rise in tax collections and upcoming state assembly polls, Budget 2016 to be presented by Finance Minister Arun Jaitley will be watched by politicians as well as domestic and global investors.