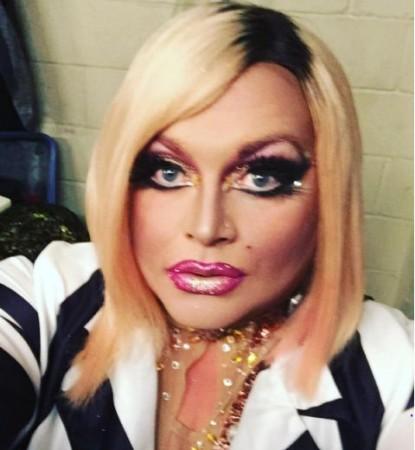 Season 2 of "RuPaul's Drag Race All Stars" is just over a week away and we will get to see all our favourite queens take another shot at being America's next drag superstar. While every contestant, including Katya, Alaska Thunderf***, Tatianna, Roxxxy Andrews, Phi Phi O'Hara, Detox, Coco Montrese and Alyssa Edwards are all fierce queens and deserving of Ru's legacy, many fans have put their money on Ginger Minj from "RuPaul's Drag Race" Season 7.
Ginger was a runner-up in her season and had managed to excel in almost every challenge. If she were to be crowned All Stars 2 winner, it would mark the first time a big queen has won, which is what makes her journey on the show worth watching.
International Business Times, India, spoke to Ginger regarding her journey revisiting the work room and the main stage, and here is what she had to say:
International Business Times: What was your reaction when you heard you were invited to join "All Stars" 2?
Ginger Minj: My initial reaction was to panic because season 7 had JUST ended and I was out in the middle of a world tour. I got the call while I was in Australia and had to figure out how to get everything together as quickly as possible. Once the panic subsided, though, I was (and am) so flattered to have been part of the ten girls Mama Ru herself chose to bring back for round two!
Also Read: Which ''Are You The One'' couple match shocked you the most?
IBT: Who is your biggest competition/who are you the biggest fan of in "All Stars" 2?
Ginger: As cliché as it sounds, I really feel like I'm my own biggest competition. I let my insecurities dictate how I played the game in season 7 and it ultimately stood in the way of myself and the crown. I learned so much about ME by watching myself on TV and have made (what I feel are) changes for the better. As far as the other girls go, I'm a fan of them all. Everyone really brings such a different element to the game that it's impossible to say one is better than the next. I know these girls, I've toured with them, I love them, but they're so damn good that it can be very intimidating!
IBT: What was your approach to doing the competition differently this time around?
Ginger: To just be confident and own what I do, warts and all! I'm a little older, a little wiser, but I feel twenty years younger and I'm at such peace with my life that I see the competition in a whole new light! ...Also, better clothes lol!
Don't forget to check out IBT's interviews with other "All Stars" contestants Tatianna, Adore Delano, Alaska Thunderf*** and Alyssa Edwards.