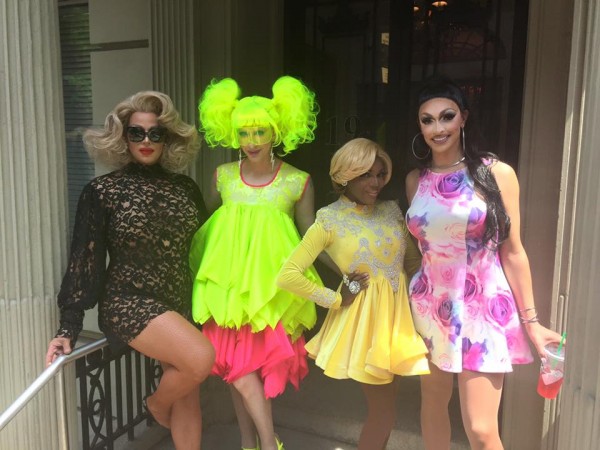 The cast of "RuPaul's All Stars Drag Race" Season 2 has been announced and the premiere date has been revealed. Now, it is anybody's guess how these fan-favourite queens will fare in the second shot at becoming America's drag superstar.
The queens trying their luck at getting inducted into drag queen royalty with "RuPaul's All Stars Drag Race 2" are Adore Delano (Season Six),Alaska (Season Five), Alyssa Edwards (Season Five), Coco Montrese (Season Five), Detox (Season Five), Ginger Minj (Season Seven), Katya (Season Seven), Phi Phi O'Hara (Season Four), Roxxxy Andrews (Season Five) and Tatianna (Season Two). Based on what we know about these queens from their own seasons and our rich research material spanning eight seasons, here are some predictions International Business Times, India has for "RuPaul's All Stars Drag Race" Season 2.
Best serving of body-ody-ody: All these women have ridiculously great bodies, if were to predict who is going the serve it the best on the main stage runway, it would have to be a tie between Phi Phi O'Hara and Alyssa Edwards.
Funniest queen: This is a tough one, because Detox, Alaska, Ginger Minj and Katya are all known for their comedy. However, we have seen the comedic genius of Coco Montrese shine through, during the RuPaul roast of her season. It would be amazing to see if she has embraced the humorous side of her wholeheartedly.
Also Read: Adult film director Lee Soo-sung in legal trouble for nude scene
Ru-demption storyline: Ginger Minj was a tough competitor in her season and had to leave because of a strategic game plan on Kennedy Davenport's part. It would be amazing to see her fight for the chance to be the first big girl to wear the dazzling crown.
Best Lip-sync performance: All these queens are evidently amazing lipsync performers and we have seen many of them go off against each other in battles that are written down in lip sync herstory. If Alyssa and Coco bring their old rivaly back to the stage and deliver even a percentage of the "Cold Hearted" performance, it would be awesome. A lipsync performance we would like to see is Katya's, especially because we are hoping that she has gotten over her fear of not being good enough.
Queen that impresses Michelle Visage with her improvement: Now, we all adore Adore and we rooted for her mostly because of her adolescent charm, as Bianca del Rio put it, during her season. However, she had a lot more growing up to do then, and now would be the best time for the party girl to prove that she has.
What are some of your predictions for "RuPaul's All Stars Drag Race" Season 2? Let us know in the comments below.