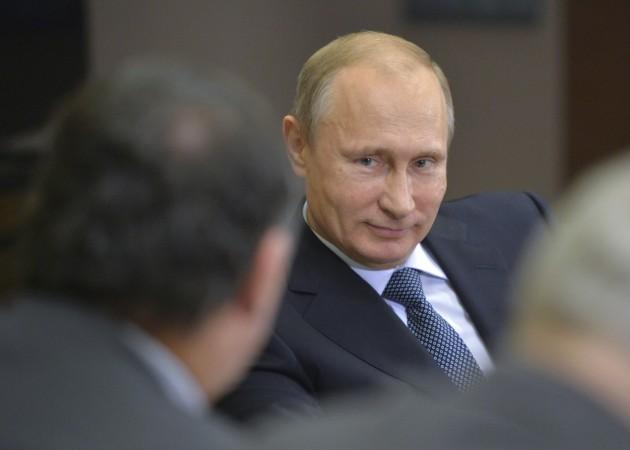 It has been over 10 days since Russian President Vladimir Putin was last seen in public. The mysterious absence has sparked several rumours, the most recent saying he has been 'neutralised'.
Amid claims that Putin has not been keeping well, Daily Mail, citing pro-Kremlin Islamic Committee chairman Geydar Dzhemal, reported that former Federal Security Service chief Nikolai Patrushev staged a stealthy coup in Moscow.
Further backing the rumour that Putin has been taken out in a coup, social media reports claimed that several tanks were spotted outside Kremlin after a three-hour power outage.
Putin was last seen in public on 5 March, but rumours that he had disappeared began on 11 March, after his visit to Kazakhstan was cancelled last week.
"It looks like he has fallen ill," a Kazakh government official told Reuters.
Reuters later carried another report that Putin had also rescheduled a meeting with officials from Georgia's breakaway South Ossetia region, which was set to take place on 11 March, but has now been postponed to 18 March.
Read more BREAKING: 'Missing' Russian President Vladimir Putin Reappears After 10 days
Russian Government Aircraft Used by Putin Lands in St Petersburg
A blunder by the Russian state department on Saturday only added to the confusion. The Russian state media had claimed that Putin had hosted an official visit from Kyrgyzstan President, but the agency later retracted its statement.
Similarly on Friday, the state department posted a picture of Putin meeting Supreme Court head Vyachevslav Lebedev. However, it is reported that the picture is from a 2011 meeting.
In the meantime, as the outside world wait for Putin to make a public appearance on Monday, Kremlin has rubbished all the rumours surrounding the Russian leader.
UNCONFIRMED: Tanks outside #Kremlin.3 hour power outage.#FSB Allegedly staged coup. #Putin missing & #Medvev Resigned pic.twitter.com/TRPXYFjBT9

— ThirdPosition (@Third_Position) March 15, 2015
"@Adjustedwell: For 3 hrs>Kremlin> in darkness. What's [up]? http://t.co/mHmhCRVF79 ... ...pic.twitter.com/4aotLJ57Uh Putin is missing ?" @dahboo7

— Loretta Stiles (@loretta_stiles) March 15, 2015