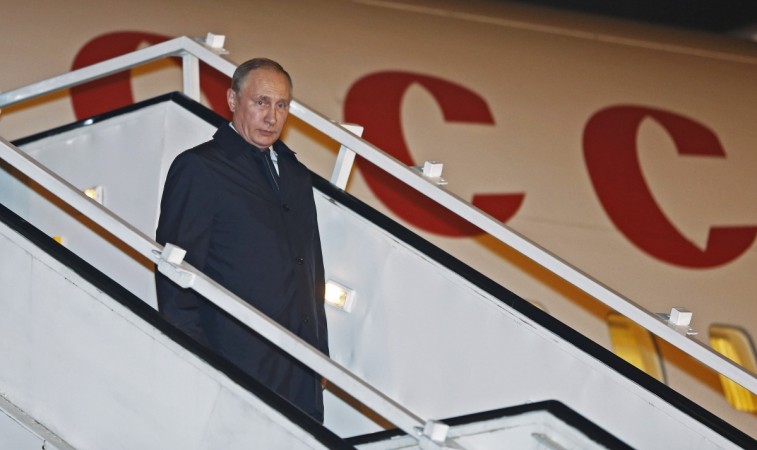 With the world keenly waiting for Russian President Vladimir Putin to re-appear, reports that a Russian government aircraft, often used by Putin, has landed in St Petersburg has sent the news media scrambling.
On Monday, Putin is expected to meet Kyrgyzstan President Almazbek Atambaev in St Petersburg. This would be his first public meeting since his disappearance from the public eye on 5 March.
President Atambaev reportedly arrived in St Petersburg on Sunday.
According to the information provided by Flightradar24, the aircraft RA-64521, which is often used by Putin for his official travel, left Moscow airport and landed in St Petersburg on Monday morning. However, it remains to be confirmed whether Putin was on the plane.
Since his mysterious disappearance from the public eye ten days ago, Putin has become a topic of worldwide debate. Rumours of a possible coup earlier on Sunday sparked a major interest across the world.
There have also been speculations that he may be grievously ill or may have even died.
Another report earlier claimed that he is in Switzerland with his girlfriend who gave birth to his baby.
Kremlin, after rubbishing all speculations over Putin's disappearance, on Friday said that the Russian head of the state will meet with President of Kyrgyzstan Almazbek Atambayev in St Petersburg on 16 March to discuss on cooperation in connection with Kyrgyzstan's accession to the Eurasian Economic Union.
Ahead of his much anticipated public appearance on Monday, Reuters reported that President Putin has ordered the Russian Navy's Northern Fleet and paratrooper units to go on full alert as part of snap military exercises in the Arctic.
Reuters, citing the RIA news agency, stated that nearly 40,000 servicemen, 41 warships and 15 submarines will be participating in the snap military drill.
Russian government aircraft, often used by Mr Putin, just landed in St. Petersburg http://t.co/2MAVVx5nyJ pic.twitter.com/wvjbODL3Du

— Flightradar24 (@flightradar24) March 16, 2015