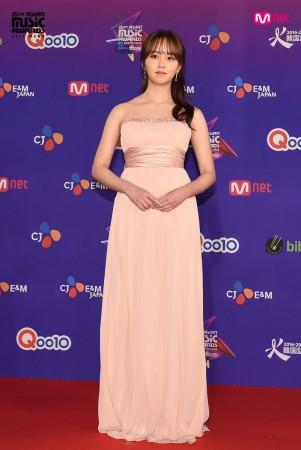 South Korean actress Kim So Hyun, who is popularly known for her role as Han Ga Eun in MBC drama Ruler: Master Of The Mask, has opened up about her role as a radio writer in the upcoming KBS drama Radio Romance.
In an exclusive interview with Marie Claire magazine, the 18-year-old actress said that she wanted to show off her "bright and energetic" side through the new mini-series.
"As it's my first production since turning 20, I selected a bright and energetic production because those around me suggested I try playing a bright character, and I wanted to show all of my 20-year-old self," the actress said.
Also read Kim So-Hyun was bothered about kissing Taecyeon in 'Hey Ghosts, Let's Fight'
Kim So Hyun also said that she is currently focusing on her acting career and has high hopes about her twenties as an actress.
"I thought a lot more about what I can do when I'm acting, rather than what I can't do. I want to applaud myself for deciding to continue with acting up until now," the Hey Ghost, Let's Fight actress said.
The Australian-born South Korean actress will be sharing screen space with Highlight's Yoon Doojoon in Radio Romance, which is expected to premiere in January. The show is written by Jeon Yu Ri and directed by Kim Shin Il.
The mini-series revolves around the life of an actor Ji Su Ho, who depends too much on scripts. He meets a radio writer named Song Geu Rim during a casting section for a radio show.
The duo work together on script-free live radio-show and face several challenges due to the actor's inability to portray a DJ without a script and the writer's inability to write a script.
"Kim So Hyun has been confirmed to be playing Song Geu Rim. As a female lead, it's a very dependable casting. We expect her to 100 percent synchronize with a warmhearted radio writer who puts her all in everything she does. 'Radio Romance' aims to showcase the feeling of an analogue romance. It will become a warmhearted drama like a radio show that highlights the stories of everyday life," Soompi quoted a production staff.