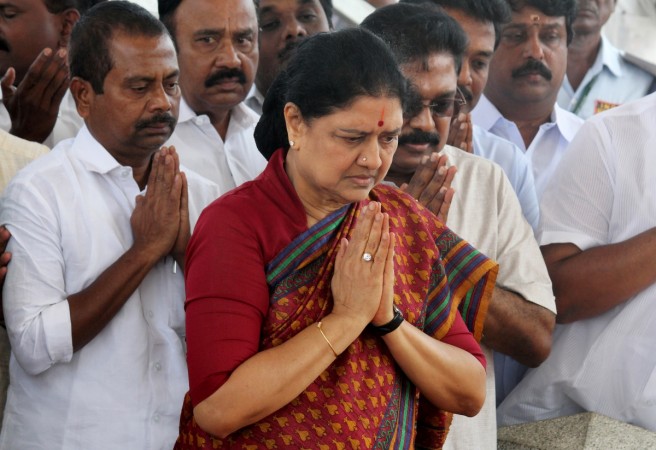 On Monday, a forwarded message with photos went viral on messaging app WhatsApp that claimed "Rs 17,000 crore and a secret tunnel found under Sasikala's house in Tamil Nadu." However, the forward message is fake and no cash, gold or tunnel was found from jailed AIADMK leader VK Sasikala's house.
The post, which went viral on WhatsApp and social media, had photos of gold, a gold car and huge amounts of cash. It claimed that CBI has seized Rs 17000 crore from an underground vault "where Sasikala kept secretly (sic)." But it turns out that the post is fake.
While the huge amount of cash recovered was real, the post was fake. According to Mumbai Mirror, the photos of Rs 200, Rs 500 and Rs 2,000 notes are from an IT department raid on a National Stock Exchange (NSE) broker's home last month, while the tunnel was dug by bank robbers in Navi Mumbai.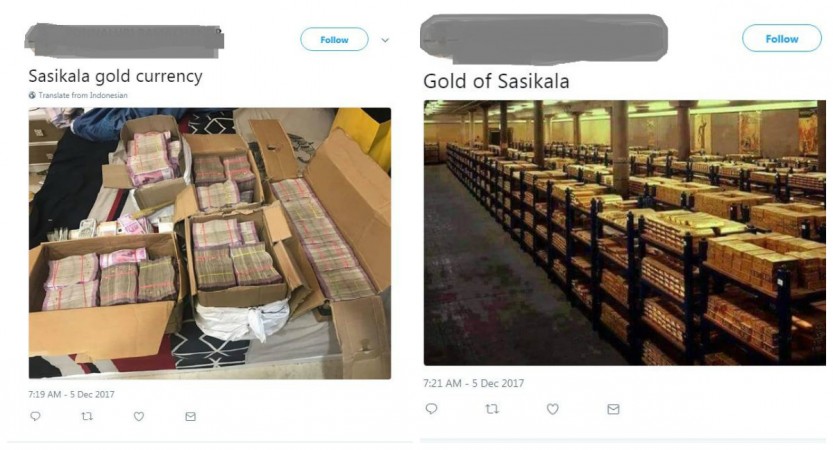 On November 17, the Times of India had reported that IT department conducted the raid on NSE broker Sanjay Gupta's home and had seized Rs 11 crore cash from his Delhi residence. The searches were related to OPG Group in the co-location case. The images circulated now on WhatsApp were taken in November after the cash was seized.
The tunnel photo was also taken in November. According to Hindustan Times, police found out that a tunnel was dug from a rented shop for a bank robbery at Bank of Baroda's Sanpada branch in Navi Mumbai. A 30-ft-long tunnel was dug over a period of five months and 30 lockers with valuables worth Rs 6 crore were broken into.
Meanwhile, the income tax department had raided the office of Jaya TV in Chennai and the properties of Sasikala's family members in November. The raids were conducted after the IT officials received a tip-off that said the channel is evading tax.
"We have confirmed information about concealment of income and tax evasion. We have been monitoring the activities of the TV channel as well as its senior officials," an official told the Times of India.