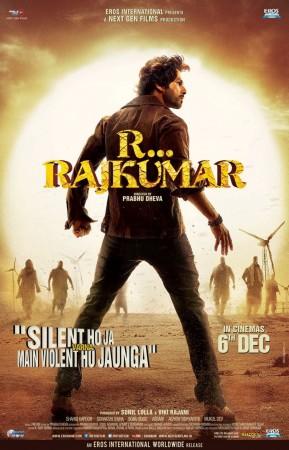 Shahid Kapoor and Sonakshi Sinha's latest film "R...Rajkumar" has opened on a negative note from reviewers. Prabhu Deva's directorial film has failed to revive the career of both the lead actors.
The film generated buzz with its peppy tunes, but it failed to impress critics who pointed out its mindless storyline and crass dialogue. Most critics have rate the film not more than two stars, citing it to be one of the worst masala flicks of the year.
"R...Rajkumar" also features Sonu Sood, Ashish Vidyarthi, Mukul Dev and Asrani in important roles.
Here's what critics have to say about the masala action entertainer:
Taran Adarsh of Bollywood Hungama writes: "Prabhu Dheva revived the masala genre in Bollywood with WANTED, triggering off a plethora of entertainers subsequently. Not deviating from what he re-introduced to the audiences, Prabhu Dheva has fruitfully crafted and churned out desi entertainers one after the other. This time, the actor-choreographer-director teams up with Shahid Kapoor to narrate a story that's set [once again] in the countryside. The only difference is, R... RAJKUMAR is *not* a remake of a South Indian hit, like Prabhu Dheva's previous endeavors.
"While R... RAJKUMAR has everything that the hoi polloi looks for in atypical mass entertainers, the problem lies in the fact that there being an overdose of masala films, one can actually foresee what's in store next.
"On the whole, R... RAJKUMAR doesn't work. It is Prabhu Dheva's weakest Hindi film to date!"
Mohar Basu of Koimoi.com writes: "R...Rajkumar is unpretentious about stooping to any level to get people to like the film. Unapologetically formulaic fashioned on the typical 80s' films which are the norm these days, it is crass with no heart to it. All through the film Shahid blabbers Pyaar Pyaar Pyaar ya Maar Maar Maar perhaps asking us to take our pick. The unanimous opinion on this one has to be 'Maar Maar Maar' for being the sheer noise it turns out to be!
"As we already know the drill, the script has no role to play in such films. It makes no bones about being mindless and I doubt too much effort goes into being that. The story line is silly. Romeo, a petty goon gets hired by the local gangster. It isn't long before both the protege and the gangster lose their heart to the same girl - the rival gangster's niece. Then begins the battle of hearts and laats in trying to win over the feisty lady love.
"R...Rajkumar is a below ordinary, at best Prabhudheva's most modest work till date. Setting up the usual claptraps with parading dialogues, the film bludgeons you to bits. The fun moments are few and though you might yourself guffawing in parts, in the end the film is neither cohesive nor compelling and that too without an over enthusiastic lead man that you expect from such films."
Saibal Chatterjee of NDTV writes: "R... Rajkumar is incontrovertible proof that Prabhu Dheva has been hit by the law of diminishing returns. A violent action film that has been designed to give Shahid Kapoor a tough-guy makeover, R... Rajkumar is weighed down by just the kind of music-and-machismo formula that worked for Wanted and Rowdy Rathore, but has now lost its edge.
"From this critic's point of view, watching this film is like being trapped, for all of two-and-a-half excruciating hours, in a torture chamber with no escape channel in sight.
It is a dreadfully painful and numbingly grotesque drama that could put one off Bollywood action flicks for a while.
"Romeo Rajkumar sings, dances and fights his way through all the mayhem that ensues. The drama all ends in a bizarre, overlong climax that is as mindless as the rest of the film."
Mihir Fadnavis of Firstpost writes: "Never before in the history of Hindi cinema has a film so astutely relayed its intentions from the makers of the film to the viewers. Which is why I need to take a leaf from a song in R...Rajkumar to elucidate the film's overall quality: gandi film, Gandi gandi gandi gandi gandi film.
"Directed by Prabhu Deva, R...Rajkumar secures the honour of justifying the fact that Bollywood can be full of surprises. Just when you think you've seen the most annoying film of the year, up pops an even more mind-shreddingly irritating one. This movie also earns the prestigious honour of being the only mainstream film of the year that I've walked out of.
"After two hours of this junk you feel like leaping into the screen and do to the filmmaker what Lisbeth Salander did to her lawyer. If this is what you want to see in a movie, call me. I have a couch at home. We'll talk about your life, your priorities, your cerebral harmony and what is best for you as a modern civilized human being. I can help. I promise."
Sneha May Francis of Emirates 24/7 writes: "Much like what the trailers had indicated, 'R... Rajkumar' is an incoherent movie that blatantly piggybacks on Salman Khan's 'Dabangg' laurels. But, in an industry that does not object to plagiarism and laps up any form of idiosyncratic action thrills, this latest treat (or trash) from dancer-turned-actor-turned-director Prabhu Dheva loses points for being unimaginatively tacky.
"However, if this were a dance show, then the verdict would've been different, with Prabhu and his brawny hero Shahid Kapoor crowned for their killer dance moves and their incredible versatility.
"The main drawback of 'R...Rajkumar' is its wobbly plot. The characters appear and disappear at random, and shift loyalties without reason or logic. And, every possible genre - whether comedy, action, drama, romance - finds a part in the plot.
"Clearly, being a great dancer doesn't automatically turn you into a great filmmaker. And, that's precisely why dancing star Prabhu fumbles and falters into making any real impression in 'R...Rajkumar'. "