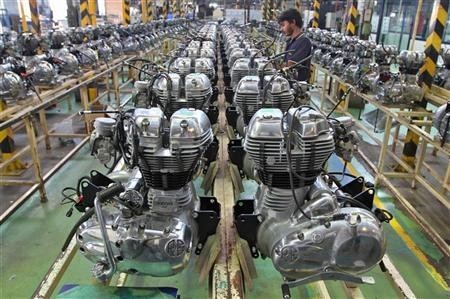 If you are a Royal Enfield fan, you must be aware that the company is working on two new larger displacement engines which could feature in future models of the iconic bike.
Although there were plenty of rumours over the past couple of months about these engines, but there was no solid evidence until now. There were speculations that this engine could either be 400cc or 750cc. Some also suggested it could be a 600cc engine. But now with the emergence of the first ever spy shots, it is almost certain that Royal Enfield is indeed developing a 750cc engine and it is going through its testing in the country.
Spied in a Continental GT chassis by the folks at BikePortal, the 750cc engine is expected to be the company's most powerful mill. It is likely to be the air-cooled engine with carburetors as the bike maker is also aiming to bring the production cost down. Single spark plug per cylinder is expected to do the ignition part and the engine is likely to churn out a power of 45-50bhp and a peak torque of more than 60Nm.
Previous reports indicated that the 400cc engine, which is also said to be in the work, will be tuned to develop 40 Nm. It is not clear by when the bike enthusiasts in the country will get a chance to swing their legs on the new powerful Royal Enfield model, but the recent spy shots are a clear sign that bike maker is eyeing a neat pie with the larger displacement engines.
Further the grapevine has it that the new engines are likely to be seen in the models which are based on the company's vest motorcycle Continental GT.