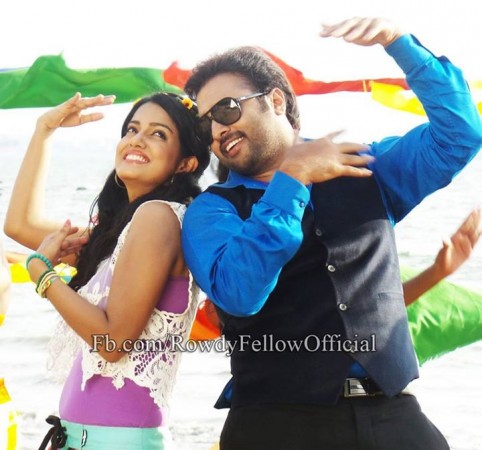 Popular lyricist Krishna Chaitanya's debut directorial venture, "Rowdy Fellow", starring Nara Rohit and Vishakha Singh in leads, has hit the marquee on 21 November and received positive response from the viewers.
Written by Krishna Chaitanya, "Rowdy Fellow" is the story of a rich, egoistic guy, who sets out to become a police officer after he is roughed up by a cop. How the hero transforms himself and finds happiness in simple things forms the crux of the story.
The film-goers, who watched "Rowdy Fellow", are generally impressed with the movie. Some are of the view that the film is not one of the routine potboilers, in spite of having all commercial ingredients.
Others are of the view that the movie has a slow-paced narration and it might be tedious to the mass audience.
Read "Rowdy Fellow" Twitter review by viewers:
KVP Pradeep
#RowdyFellow falls flat in the 2nd half and ends up as a below Average. Predictable screenplay and Slow Narration are the culprits. #NaraRohith is the only +ve in the film. He has delivered a very good performance. Needs to improve his fitness!! #RowdyFellow
Shrinu Nakka
Watched #RowdyFellow..Dialogues are good..Rohit nailed it..I felt it could have been a much better movie
ChinnaUppala
#RowdyFellow first half Bagundi ... Second half Ok.. Totall ga movie AVG .. Posani(I Love u Raja) Comedy hilarious..Dialogues ..Superrr
Santu
Slow narration is the culprit .. dialogues n comedy are good.. one time watchable #rowdyfellow
OM Deepak
Nara Rohit goes to watch Nandamuri Pawan Kalyan's #AD in #RowdyFellow Good improvement in Rohit.. Liked the 1st hour #RowdyFellow Sound Track & Taking is very good in #RowdyFellow ..avg songs though.
Tarun Chintalapudi
#Rowdyfellow 1st half is gud.....nara rohit, posani nd rao ramesh acting is gud Cinematography awsme while screenplay is predictable
Sridhar Reddy
You may or may not like the film, but it has many good scenes. Definitely a nice attempt. #RowdyFellow It could have been fantastic if handled well. Looked like an extension of Baanam. #RowdyFellow
KishanSarma
Nice attempt by Nara Rohith and KC. Worth watchable #RowdyFellow Movie slow ga unna, dialogues, scenes taking bavundi. Rohith babu screen presence, dialogue delivery bavundi. Body meeda concentrate cheyali
Murari
just watched #RowdyFellow inko 10 years taruvatha vasthe peddha hit #RowdyFellow direction,dlgs,bgm super #RowdyFellow slow narration,gud attempt,nara rohit at his best #RowdyFellow
Avad
#RowdyFellow will give Nara Rohit the much needed break.He has immense talent and has proved that he can carry a film on his shoulders
Ravi Kiran
#RowdyFellow Bane undi..Posani comedy adiripoindi Fantastic Dlgs & BGM..Overall ga Decent Watch.Congrats Krishna Chaitanya & Team. 3.25/5
Ahiteja
#RowdyFellow One time watchable.. PLUS: Hero characterization,Dlgs ,cinematography &BGM. Minus:slow Narration,Songs.. Debutant director Krishna Chaitanya Did Good Job and liked the performances of Rohit &Rao RamEsh Garu. Naara Vari Cinema Lo MEGA References. Movie Opens with Atu amalapuram song,Hungama at #AD Theatre ,#Aarya Poster.:)"WHISTELS"
Raghava
Nara Rohit's #RowdyFellow Review -Nara Rohit's One Man Show and Its a Very Differnet film from Routine Commecial Film.
Siddhu Manchikanti
#RowdyFellow is a Verygud script ruined wid improper taking,Dialouges r impressing.NaraRohith's Size is no where less 2 NTR in Rakhi. AVOID
RJV
#RowdyFellow ... Good 1st half but kasta slow ga going... Should appreciate Nara Rohit for the selection of scripts. #RowdyFellow is a different film... Must appreciate Nara Rohit for such attempt ... Slow screenplay is tough to accept but watchable
Sai Dharam Tej Fan
#RowdyFellow First half - First 1hr nothing so interesting. Last 20 min nundi movie kick start ayindi. All depends on second half.
Andhrawala
Director starting nundi end varaku oke level lo teesukelladu... Flat ga.. Ekkada lepala, ekkada dinchala.... Avg bomma #RowdyFellow. Rohit maatram konchem taggali... Kaadu kaadu chaala taggali... Aaa voice ki perfect body undi unte cinema inka ekkedi...
Ram Prasad Naidu
#rowdyfellow first half boring... Time Waste 1 hour