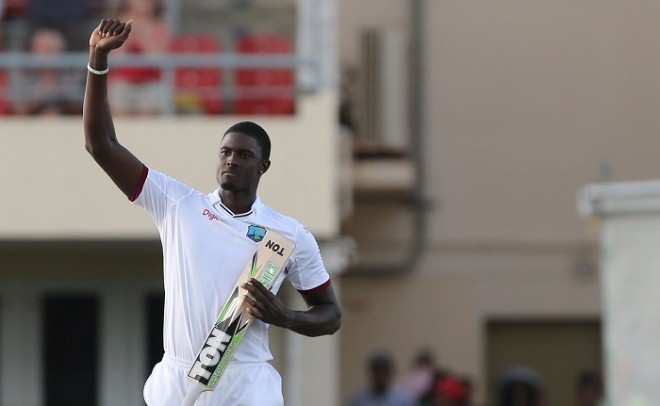 Well, the West Indies finally showed some Test match spine, and in some style too. When sunny skies greeted the players in the morning at Sabina Park in Kingston, Jamaica, it looked like India would run-away with a 2-0 lead with the only question being how quickly. The result looked to be as foregone a conclusion as they come, or so it seemed, with West Indies on 48/4 in 15.5 overs, coming into the final day. Surely only the rain was going to save them in this Test match.
Nope, the wet weather stayed away, and the sun shone brightly on the West Indies lower middle order, with Roston Chase (137 n.o., 269b, 15x4, 1x6), Jermaine Blackwood (63, 54b, 9x4, 2x6), Shane Dowrich (74, 114b, 6x4, 1x6) and Jason Holder (64 n.o., 99b, 8x4, 1x6) playing four innings of the highest order under extreme pressure. Chase, playing just his second match, was the glue that held the West Indies innings together, striking a glorious century, that will go down as one of the best in his team's recent Test history.
Thanks to Chase and the other three batsmen, West Indies pulled out a draw from the jaws of defeat, finishing their second innings on 388 for six in 104 overs, before Kohli brought that shakehand out to call an end to the match with 10 overs to play – the first draw at Sabina Park since 1998.
West indies' lower order has been the more difficult one to get out in this Test series, so India would have known they have a task in front of them coming into the final day of the match. However, nobody, not even the most optimistic West Indian fan, would have predicted the manner in which the home team fought back.
Blackwood went on a merciless counter-attack, with the India bowlers having no answers. The right-hander made a really nice half century in the first innings as well, but this one was even better, at well over a run a ball. That attack from Blackwood did three things – it gave West Indies the momentum, it put Virat Kohli on that foot he does not want to be in and it have Chase a chance to settle down.
Thanks to Blackwood, and then Chase and Dowrich, West Indies would go on to score 167 runs in 38.1 overs in the first session. Only the one wicket, that of Blackwood, caught bat pad off Ashwin, would fall, with the match, suddenly looking a lot different.
West Indies would continue to control proceedings in the second session as well, even after Dowrich fell to Amit Mishra off an unlucky lbw decision.
Chase was a different class, easing to his first ever Test match hundred, while joining Ashwin as the second player in this series to score a century and pick a five-for in the same match.
The captain Holder would come in and give Chase some outstanding company, with the India bowlers unable to trouble the batsmen, even after taking the new ball the moment it became available.
With very little spin or movement off the pitch West Indies eased into the lead, with a further 104 runs plundered in 31 overs of the second session on 319/6 in 85 overs, for a lead of 15 runs.
It was a matter of batting out the first hour of the final session after that for the West Indies, in order to make the game safe, and with the way that Chase and Holder were batting, there was not even the slightest doubt of that happening.
Chase was impregnable in defence – and it was all about just batting out time now – and Holder was solid as ever, showing, yet again, that he might be a better batsman than a bowler, as Ashwin, Mishra, Ishant Sharma, Mohammed Shami and Umesh Yadav, all tried in vain to find a way through, a West Indies pulled off one of the great fightbacks.