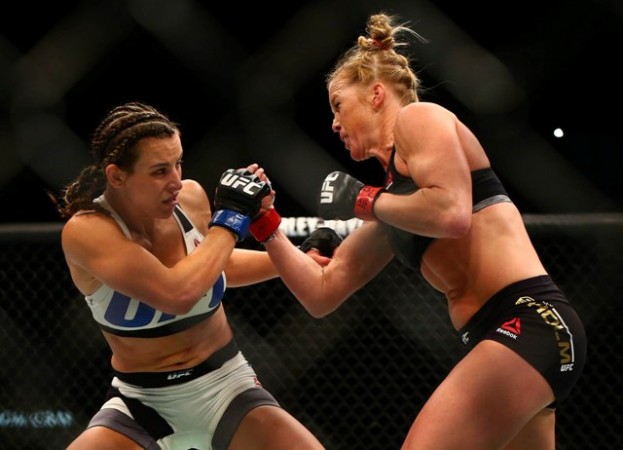 Newly-crowned UFC women's bantamweight champion Miesha Tate feels there is no fight remaining in Ronda Rousey. UFC President Dana White confirmed after UFC 196 that Tate will face Rousey in her first title defence, but Tate herself is doubtful whether the former champion will be ready for the fight.
Tate, 29, became the third women's bantamweight champion in the UFC history after defeating Holly Holm in the co-main event of UFC 196. The well-rounded experienced MMA fighter submitted Holm, a former pro boxer, in the final round of their five-round fight to be declared the winner via a Rear Naked Choke (RNC).
The world waited with bated breath to see Ronda Rousey, possibly the greatest female MMA fighter ever, get into a rematch against Holly Holm, after the former's shocking loss at UFC 193 last December. However, with Holm losing in her first title defence inside the octagon, all plans have been reworked.
While it is confirmed that Rousey will next take on Tate for the championship, the venue or the event of the fight is not yet announced. The speculation, however, is of the fight happening in UFC 200, scheduled for July.
Tate will be facing Rousey for the third time in the octagon and this will also be the first time the former Strikeforce champion will come into the fight as a UFC champion. There indeed has been a change of scenario. Tate, meanwhile, also questioned if there is any more fight remaining in Rousey.
"What I don't recognise in Ronda is the will to build herself back up from this breaking point," Tate told the LA Times. "She hit such a low, and I haven't heard her say the things that I would want to hear someone say if they really wanted to come back from something like that."
Rousey had admitted at The Ellen DeGeneres Show earlier this year that she contemplated suicide after losing the belt to Holly Holm and it was only because of her boyfriend Travis Browne that she got all the courage to get back up.
"What I'm looking to hear [from Rousey] is, 'I'm going to come back better, I'm going to come stronger, I will be the champion again.' Tate continued. "I haven't heard her say those things, so it makes me really wonder where is her mind at."
Dana White had stated earlier that Tate could be returning to the UFC sometime around October and November, but is Tate really interested in waiting for that long?
"I haven't decided yet, honestly," she told Fox Sports. "I'm still letting it all soak in and I'm trying to enjoy this moment, but eventually, probably after this week I'm going to sit down and talk to my management and see what exactly is next for me and what's best."