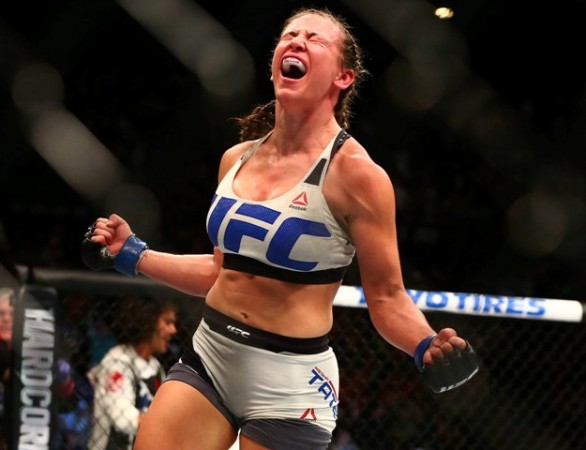 The chances of seeing Ronda Rousey taking on current UFC women's bantamweight champion Miesha Tate at UFC 200 look all the more realistic now.
UFC President Dana White confirmed Sunday — a day after UFC 196 — that former champion Holly Holm would have no rematch against Tate and only Rousey would get a title shot now. While the championship bout has already been booked, the next question is where it is going to take place.
It is highly speculated that UFC 200 is being lined up as the PPV to host the match with both Dana White and UFC Chairman Lorenzo Fertitta looking to keeping their options open ahead of the MMA company's landmark event scheduled in July.
It was only in February that White revealed Rousey could be set for her UFC return "probably in November", as the 29-year-old is filming movies like the "Road House" remake and "Mile 22" with Mark Wahlberg. However, Fox Sports has claimed the shooting schedules of the movies haven't been finalised yet and there is a big chance Rousey might return in UFC 200.
"But it doesn't mean I can't ask," said Dana White to ESPN when asked if there is even a slight chance of the MMA queen making her return to the octagon in July.
"I texted Ronda — she wasn't watching the fight [between Holly Holm and Miesha Tate]. I texted her and she said, 'What happened?' And I said, 'Miesha just choked her unconscious.' She said, 'Looks like I gotta get back to work'," White was quoted by Bloody Elbow as saying.
"Well, I don't know what that means. (laughing) Ronda is scheduled not to come back until October or November. But it doesn't mean I can't ask.
"Ronda Rousey has worked very hard for 3 and a half years for this company. She did everything that was asked, and went above and beyond the call of duty. If she wants to stay out until October, I will let her do that," White said.
Fertitta meanwhile said a rematch between Tate and Holm in UFC 200 was a possibility, but they hadn't finalised anything yet, thus keeping options open for a possible Miesha Tate showdown with Ronda Rousey.
"We made it pretty clear we wanted to do the Ronda-Holly rematch. [Holm] and her manager were adamant they wanted to take this Miesha Tate fight in between, and ultimately we can't force someone to do something, so we made the fight," Fertitta told the LA Times.
On being asked if a Tate-Holm rematch at UFC 200 was possible, he said: "Sure. Absolutely. That's one of the options. We haven't made any decisions as of now."
Tate, 29, who connected with the Rear-Naked Choke on Holm in the final round of their UFC championship bout in UFC 196 to become the new champion, said she was ready to take on anyone as she looked ahead to her first title defence. "My job as champion is to fight the next best fighter, whoever that is," Tate mentioned.
For the record, Rousey recorded two victories over Tate in the past — in March 2012 and December 2013 — through the armbar submission. While the first battle was at Strikeforce, the second one took place at UFC 168.