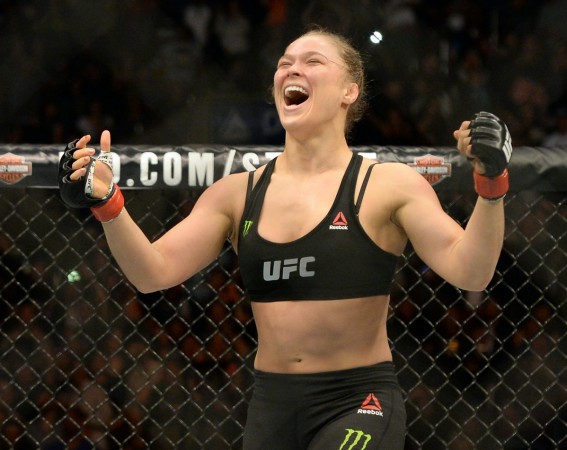 UFC President Dana White has confirmed that Ronda Rousey's fight with Cris Cyborg will "definitely happen", provided the former champion, who makes her return to the octagon at UFC 207 on December 30, wins the bantamweight title back from current champion Amanda Nunes.
The most dominant mixed martial arts (MMA) female fighter in history is making her return to the sport after nearly a year's absence. Ronda lost to Holly Holm back in November last year at UFC 193 and since then, she was given a medical suspension by the UFC. However, the 29-year-old, who has 12 wins from 13 MMA fights in her career, slowly resumed training and is now ready for her comeback.
Seeing Ronda fight Cyborg has been a dream for MMA fans -- much like the Anderson Silva vs GSP fight, which could take place at UFC 206. Even White was asked if the fight between the two female juggernauts would take place inside the octagon and the answer was yes from the UFC chief. But, not for now.
"I know that Cyborg wants that fight [with Ronda]. Ronda wants that fight, too," told White to Fox Sports. "[But] Ronda's plan right now is to come back and try to win her title back and if that happens, the Cyborg fight will definitely happen."
Cyborg, 31, joined the UFC from Invicta FC last year and put up a dominant performance in her two UFC fights this year, bagging stunning knockout wins. "Dana White said Ronda is a mega star and that in Brazil people cheered for her against a Brazilian, so I want this fight at a UFC Rio," commented Cyborg on MMA Fighting. "The fans deserve this fight in Brazil."