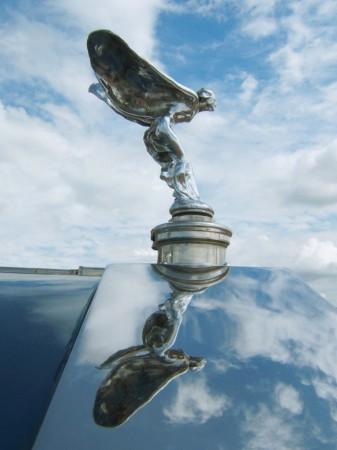 British luxury car maker Rolls Royce is all set to unleash its most powerful and dynamic design model, Wraith Coupe, at the Geneva Auto Show in early March.
"The Rolls-Royce Wraith will draw superlatives when it is unveiled in Geneva. Expect the boldest design, the most dramatic performance and the most powerful Rolls-Royce that has ever played host to the famous Spirit of Ecstasy figurine," Torsten Muller-Otvos, CEO, Rolls Royce said while confirming the name of the new model.
The new coupe is said to be powered by a 6.6-litre, twin-turbocharged V12 petrol engine which could generate a power of 600bhp in the region of 450kW and an equal amount of torque.
The Wraith is reportedly the most powerful car model from Rolls Royce until now. The two-door car model "will have a length of around 5200mm and ride on a wheelbase about 180mm shorter than that of the four-door Ghost," Stuff.co.nz reported.
Rolls Royce had first made use of the name 'Wraith' in 1938.
There are no official pictures of the car yet. The company had released a dramatic teaser instead that barely showed the profile of the car, leaving everything to the imagination rather.
"We will present a model whose starting point is luxury, refinement and exclusivity, traits that have made Rolls-Royce the world's pinnacle luxury good for the last 108 years. This is a car not only defined by a timeless elegance, but one that encapsulates a sense of power, style and drama," Torsten Muller-Otvos added.
Below is the teaser video of Rolls Royce's latest coupe: