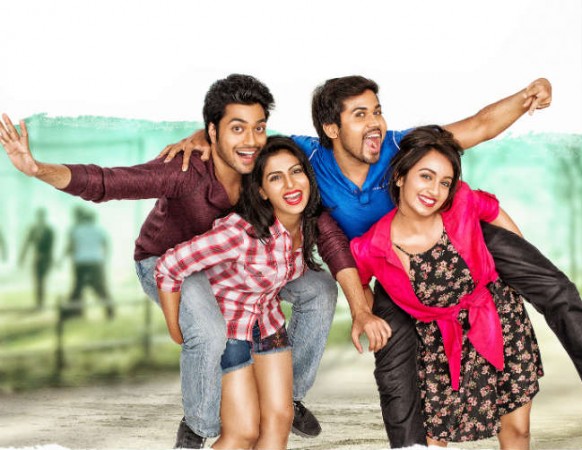 Director Murali's debut venture "Rojulu Marayi," which was released in theatres around the world on July 1, has received mixed reviews and average ratings from film critics.
"Rojulu Marayi" is a commercial entertainer, which has romance, comedy, horror and mystery elements to woo mass audience. Maruthi Dasari has written story and screenplay for the movie, which is a mix of different genres and is apparently a rehash of all his previous hit movies, say the critics.
Close friends Adhya (Kruthika) and Rambha (Tejaswini) are in love with two guys. They want to marry them and settle down in U.S. However, a baba (saint) tells them that whover they marry will end up losing their lives in 10 days. In bid to avoid this situation, they trap two innocent men Peter (Pavatesam) and Aswad (Chetan) and marry them. What happens next forms the crux of the story.
The critics say the first half of "Rojulu Marayi"is interesting and entertaining and some comedy and realistic scenes keep the audience engaged in this part. But the second half is a big letdown as it has boring narration. The climax is predictable to the disappointment of the film goers.
Chetan Maddineni, Parvatheesam, Kruthika and Tejaswi Madivada, who played the lead roles in "Rojulu Marayi," have done justice to their roles and their performances are highlights of the movie. The film has decent production values and background score, and picturisation and dialogues are the attractions on the technical front, add the critics.
"Rojulu Marayi" has been rated an average of 2.1 out of 5 stars. We bring you some critics' verdict and ratings for the film. Continue to see them in the "Rojulu Marayi" review roundup:
While the film shows Maruthi has failed as a writer, one wonders why a popular producer like Dil Raju got associated with the film. Though one assumed that Rojulu Marayi could be in the horror/comic category, it's neither. Watch it at your own peril.
Rojulu Marayi is a contemporary take on how girls in today's society are. The film has all that you can expect in a Maruthi brand film. Double meaning dialogues, comedy, female bashing and a very interesting first half which keeps things entertaining. But it is the lack luster second half which lets down the proceedings and makes this film just a one time watch.
Rojulu Marayi is like a mix of various genres that have worked at the box office in recent times. Maruthi wrote a script that has space for youthful romance, comedy, horror and mystery. Mixing so many genres into one is not as easy as it sounds. Quite understandably Maruthi made a mess of it.
'Rojulu Marayi' is another desperate attempt in Tollywood where debutante director has tried something new and has flawed in every frame in second half. He starts off well, but loses the grip as the story progresses. Tejaswi is the only saving grace and she scores with glamour and her matured acting performance. Rest of them have done what has to be done. Nothing more, Nothing less. Cinematography is outstanding and Production values are rich. But that doesn't save the movie from falling flat. Second half will definitely test your patience. Also what does the title has to do with the plot?
First half of the movie goes like Maruthi's youthful/boothful movies which is quite bearable as there are some fun moments. But the second half turns out into a horror thriller with ghost elements. The horror moments are quite farce. Second half turns into a bore fest with too much of noise, with silly comedy by Ali, some ghost songs and predictable climax.