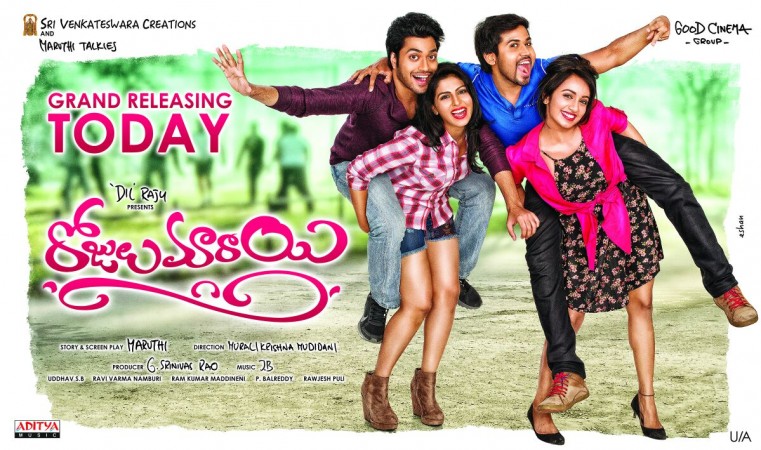 Producer Maruthi Dasari's Telugu movie "Rojulu Marayi," starring Chetan Maddineni, Parvatheesam, Kruthika and Tejaswi Madivada, has received mixed reviews from the audience.
"Rojulu Marayi" is a romance drama with a high entertainment quotient. Besides producing it, Maruthi Dasari has also written the story and screenplay for the film. The youthful family entertainer stars Chetan Maddineni, Parvatheesam, Kruthika and Tejaswi Madivada in lead roles. "Rojulu Marayi" features Ravi Namboori's dialogues and JB's music.
The story of the film revolves around Rambha (Tejaswi) and Aadhya (Kruthika), two modern and independent girls who want to marry rich guys and settle down in the U.S. They marry Peter (Chetan) and Ashwath (Parvatheesam) upon the advice of a saint, but both Peter and Ashwath are found dead a few days later. What happens next forms the actual crux of the story.
The viewers say the first half of "Rojulu Marayi" is entertaining and some songs, comedy, fantasy elements and innuendo-ridden dialogues keep them engaged. The twist before the interval hints at interesting times ahead. However, the second half is a big letdown, with the climax being predictable.
Parvatheesam, Kruthika and Tejaswi Madivada have delivered good performances, which are the attractions of "Rojulu Marayi." Chetan Maddineni, who has made his debut with the film, has tried his best to do justice to his role, but he has a long way to go to prove his mettle. Ali's comic timing is an asset to the film, say film-goers.
"Rojulu Marayi" has been jointly produced by Dil Raju and Maruthi under the banner, Sri Venkateswara Creations and Maruthi Talkies, and it has decent production elements. JB's music, the impressing camera work and Ravi Namboori's punchy dialogues are the highlights on the technical front, add the viewers.
We bring here some viewers' opinions on the film shared on Twitter. Here is the live update of "Rojulu Marayi" movie review by audience:
Nitin Chakravarthy ‏@Nitinreddy1111
Intermission - Entertaining First half.. Parvateesham one man show #RojuluMarayi #RojuluMarayi : 2nd half has gone completely wrong Spoiled all the fun generated by the entertaining 1st half.. The biggest drawback is that it didn't have any core theme..Tries too hard to entertain & remains half successful.. #RojuluMarayi #RojuluMarayi : Go , watch the 1st half & walk out.. !! Thats it !!
Sairam Pasupuleti ‏@PSairamvja
#rojulumarayi time pass movie 1sthalf good 2ndhalf average 2nd half lo drusyam movie lo #venky kanapadey sceens mana fans full happy
Uday Nag ‏@Udaynag
Just watching #RojuluMarayi 1st half passes with hilarious comedy But it failed in 2nd half n test our patience #DirectorMaruthi #DilRaju
AVAD ‏@avadsays
#RojuluMarayi has a hilarious first half.Second half irritates you completely. @TejaswiMadivada was super
Suresh Kondi ‏@V6_Suresh
#RojuluMarayi is a Tedious watch.. !!
AG ‏@arv409
Disappointed 2nd half with an expectable Climax .. poor work from #Maruthi .. #RojuluMarayi
Sanjay ©®7 ‏@SanjaySaahu12
1st half :-Simply Superb...interval kiraak... #RojuluMarayi
VamsiKaka ‏@vamsikaka
Hilarious First Half. #RojuluMarayi
God of Masses ‏@ImkaNTRi
Super entertaining 1st Half Paravateesam one man show #RojuluMarayi Bad 2Half #RojuluMarayi
Ashok ₹eddy ‏@CAashokreddy
1st half marindi.. 2nd half maraledu.. mari kaaliga unte theater vaipu vellandi 1st half chusi vacheyandi. Paarvateesam #RojuluMarayi
MEGA FAN ‏@paparayudud
#RojuluMarayi skip it, 2nd half too worst, adhe chetha horror comedy
Pandu ‏@pandu_kdp
#RojuluMarayi first half hilarious stuff anta ga.. appude start aindi.. inka Yeppudu aguthundoo chudali..
Srikanth Reddy.A ‏@srikanth2828
Below avg reports from premier. 2nd half #RojuluMarayi
MyTollywoodMovies ‏@mytollymovies
1st half- starts of slow but ends on a good suspense note Time for some emotional scenes Twist to end the proceedings. Predictable but not bad Movie ends on happy note.