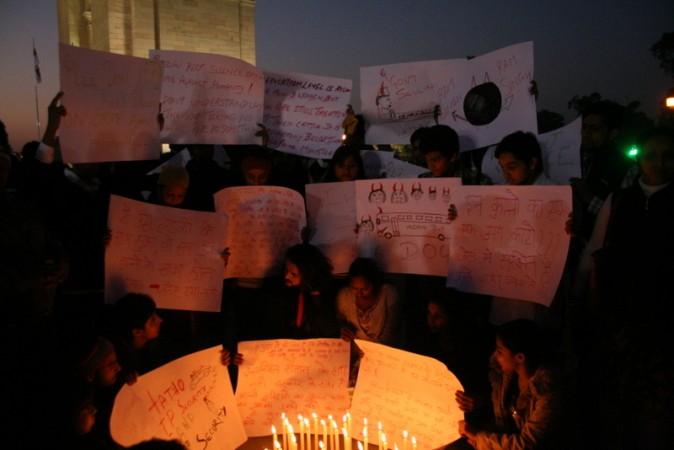 Police Arrest 8 Men in Connection with gangrape and murder of Woman; All Confess to Crime
Enraged with the gang rape and murder of a mentally challenged Nepalese woman in Haryana's Rohtak district last Sunday, residents of Rohtak have demanded immediate action against the culprits as no one has yet been arrested.
The civil society members and some notable faces from Haryana along with the family, including victim's sister, held a candlelight vigil demanding justice for the woman and protested against likely inaction of the police.
"We want the culprits to be hanged. This is not just about my sister. It's about every daughter and daughter-in-law. But the police investigation is too slow," NDTV quoted the victim's sister as saying.
The police have said they are investigating the case and will soon arrest the accused who woman, gang raped the woman, brutally assaulted and murder her.
"Our teams have got some crucial leads. Some local people have also provided us some clues. We are working on them in the most comprehensive way possible. We will soon arrest those responsible and ensure that they get the most stringent punishment," Rohtak's Senior Superintendent of Police (SSP) Shashank Anand said.
"We have constituted an SIT to track down the perpetrators. We have put our best investigators on the job," The Times of India quoted Anand as saying.
Haryana police have also announced a cash reward of ₹1 lakh to the person who helps identify the culprits.
The 28-year-old mentally challenged woman was abducted on 1 February and her mutilated body was found in the fields of Akbarpur village on 4 February, according to PTI report.
The body was recovered in a decomposing state, without key body organs and instead, sticks, stones, blades and condoms were stuffed into her private parts. Also, it was difficult to recognise her face as it was attacked by wild animals.
Pandit Bhagwat Dayal Sharma Post Graduate Institute of Medical Sciences (PGIMS) forensic medicines department head Dr S K Dhatterwal said that the victim's body was decomposing when they were conducting autopsy, which lasted for five hours.
He said two stones were found from woman's anus and "Her face was eaten by animals; her lungs and heart were found missing. Also, her skull had fractured and there were injury marks on both her thighs and chest," according to the TOI report.
"There was a 16cm long and 4cm wide stick-like article in her vagina. We presume that a longer stick was used and it may have broken inside her. We also found a number of condoms in her vagina," Dhatterwal said.
The woman had come to her sister in Rohtak for treatment at PGIMS and had been staying with her for the last three months. Her sister had filed a complaint after the 28-year-old went missing last Sunday.