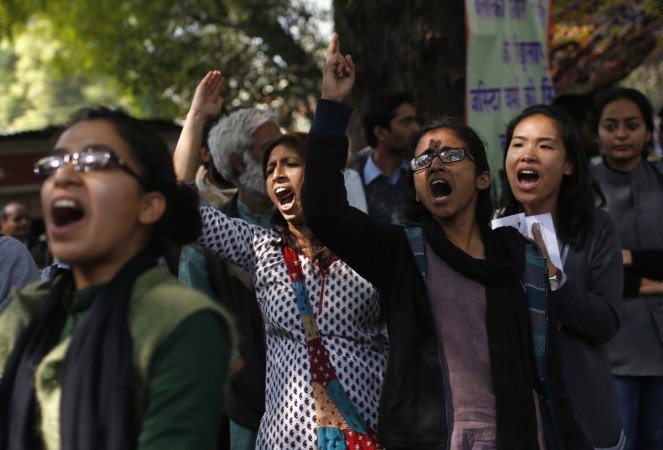 The two sisters from Rohtak, who have developed a reputation of hitting back, literally, when it comes to tackling eve-teasers, are now having to prove the authenticity of their acts.
A lot of questions are being raised on social media following the release of a second video on Tuesday which shows the siblings beating up a man in a park, reports news.com.au.
Doubts are being cast over whether the girls were really fighting back against harassment.
"Same Rohtak girls beating a different set of guys. beating recorded but no eve teasing (sexual harassment) recorded," Surya Bharadwaj tweeted.
The sisters are seen kicking and slapping a man in the latest video, reportedly shot in a park in Rohtak, Haryana.
The girls claim that the incident took place in October after the man passed lewd comments at them.
"Everyone has been calling us bravehearts. Did they think that our protest against harassment was only against one set of men (on the bus)," Pooja Kumar, 19, younger of the two sisters, told NDTV after the second video also became public.
"We have always been forceful against harassment by men. No matter when or where it has happened, we have never let men get away with it," Pooja said.
However, people on social media had mixed opinions on the matter.
"New versions of #RohtakSisters story says that girls were at fault & men were just reacting in self-defence," posted Miss Tiwari on Twitter.
"So many different versions of #RohtakSisters Incident. So many prejudices too. Don't know what d truth is," said another Twitter user Mufflerified Prerna.
Have no idea who's innocent in #RohtakSisters case, but can never support "media trial" and "mob justice", Yashasvi @rsyashasvi tweeted.
Pooja claims that a bystander must have shot the second video.
"The video was probably shot (by the bystander) only after verbal duel between us and the man escalated (to a physical fight)," the 19-year-old said.
She also hinted at the possibility of there being more videos of them "beating up their harassers".
"We've always reacted the same way with the men who have harassed us in the past." In the first video, Pooja and her elder sister Aarti, 22, are seen beating up a group of three men with belts inside a moving bus.
The video also exposed the other passengers as mute spectators, drawing immense criticism on the society's attitude towards crimes against women.
The girls received a lot of praise as well as cash rewards from the local state government, which described it as "an act of bravery".
The three alleged molesters shown in the first video were arrested on Sunday night after mobile phone footage, reportedly shot by a pregnant fellow passenger, was uploaded on the social media and continuously played on the various news channels in India.
The local police claim to be investigating the incident.