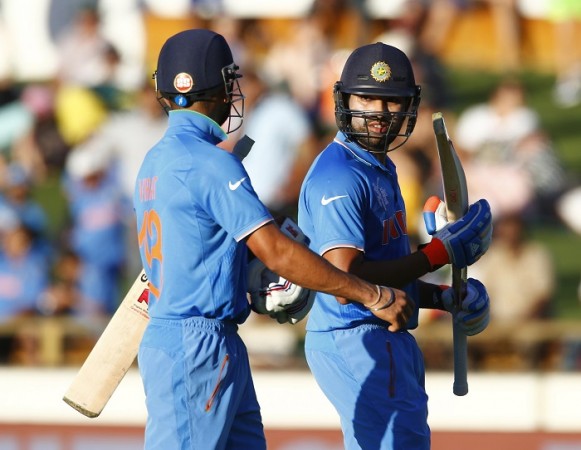 Indian star batsman Rohit Sharma heaped praise on his teammate and Test skipper Virat Kohli, saying that the former has never seen a player like the latter in recent times.
Kohli will be leading the Indian Test side against Bangladesh in the one-off Test match that is scheduled to start from 10 June at Fatullah.
Kohli took over the Test captaincy when MS Dhoni decided to hang his boots after the third Test match against Austrlalia when India was touring down under last year.
"I have never seen a player like him and what he has done in this limited time speaks volumes about the hard work he has done to achieve it. He brings a different energy to the table.
"I like his aggression and we saw how he led the Indian side in Australia. Now the onus is on him to carry forward the Indian legacy, he has to show us the way ahead. And I am confident he will," said Rohit Sharma in an interview to Sportskeeda.
In the One-Day Internationals (ODI) format, Team India has had a lot success in recent years, but the same cannot be said when it comes to India playing Test matches away. They have only managed to win two matches out of 24 Tests played since June 2011.
Rohit urged Indian fans to be patient as he is hopeful that India will do wonders under the leadership of Virat Kohli.
"It is important to leave our past behind and look ahead. The past two Test series have not gone our way, but we all have learnt something from it. We fought in each game and tried to be aggressive," Rohit added.
Rohit Sharma believes that it is just a matter of time and that India would come back strongly in the longer format of the game when it comes to playing these matches abroad. He also said that they are a young band of players and still learning.
One needs to be patient in order to achieve success in Test cricket as it is way different from the shorter formats of the international game, according to Sharma.