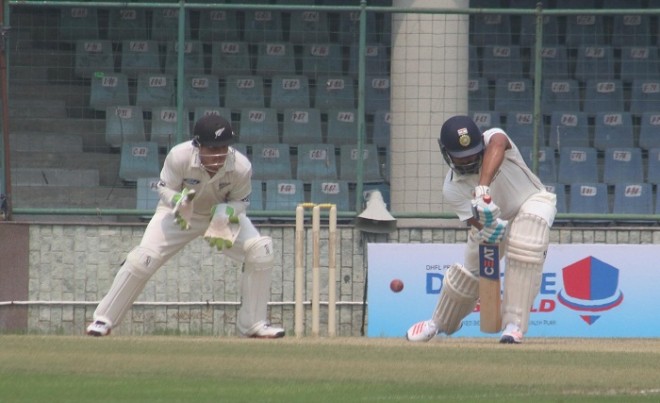 India batsmen Shikhar Dhawan and Rohit Sharma have been good players for the nation in ODI cricket, but their performance in the Test format has been quite disappointing. Though Rohit was given the nod for the ongoing first Test series, Shikhar did not make the cut for the match at Green Park in Kanpur. Former wicketkeeper Deep Dasgupta believes it is time for the duo to be consistent whenever they get a chance to represent India.
Rohit failed to impress on the opening day of the first Test, scoring 35 runs. The right-hander, in his 19 Test matches, has only scored 981 runs, which is far less than what is expected from a batsman of his calibre. Though Shikhar's record looks better, with 1,446 runs from 22 Tests, his form in the last two Test series against South Africa and West Indies has not been good. As a result, the in-form batsman, KL Rahul, was given a go for the opener's position.
Dasgupta also stressed upon the need for Rohit and Shikhar to be consistent in the longer format.
"Both are experienced. When it comes to cricket, consistency is something that has to be there. Playing at home is obviously an added advantage but they will have to perform," Cricket Country quoted Dasgupta as saying in an interview. "But again, when a player knows that he is going through hard times and there are chances that the series can be his last, it is never easy to perform. It is not a very favourable condition then."
Both the players should get their fair share of chances now, with India scheduled to play a number of Test matches at home this season. But if they fail to score runs when given a chance, it would not be surprising if they are dropped from the Test squad for future series.
As of now, India are focusing on the India-New Zealand Test series. Dasgupta wants to see some tough battle in the field of play, with the home side emerging victorious.
"I really want to see India to win the series, but at the same time I want to see good cricket being played, which I expect New Zealand to do. They must have prepared themselves really well and they are a good side. From that perspective, I want to see good cricket and of course India to win it," the former wicketkeeper batsman said.