The crisis over the Rohingyas who are being targeted in Myanmar and the Bangladesh government's strong stand on the matter has put New Delhi's policy-makers in a spot. India needs to have good relations with both Aung San Suu Kyi, the State Councellor of Myanmar, and Sheikh Hasina, the prime minister of Bangladesh but the two women's contradictory stances on the Rohingya problem has made it challenging for South Block to make an easy choice.
Dhaka, for instance, has adopted a balanced stance on the issue. While giving shelter to a large Rohingya population in Bangladesh, it has also taken up the matter strongly with Naypytaw, asking the latter to take measures to stop the exodus or it would take the matter to international platforms. It has also accused Naypytaw of violating its air space to monitor the Rohingyas that have fled Myanmar. The latter, however, has denied the charge.
If Bangladesh indeed takes up the matter with the international community, then there are high chances of Myanmar facing more ire. The United Nations and various human rights bodies have been vocal against the Myanmar authorities over the Rohingya crisis and Bangladesh's initiative could isolate them more.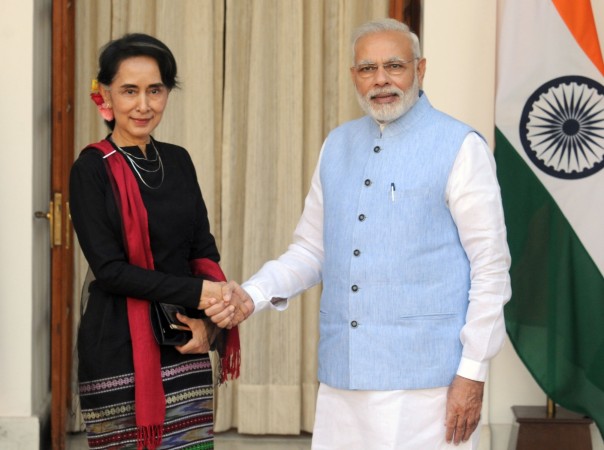 This precisely has made it more challenging for India. Prime Minister Modi recently backed the Myanmar government in the issue during his visit to that country, claiming that the Rohingyas pose threat to India's security. His government has also asked various states to prevent entry of Rohingyas and also push back those who are presently located in India. The Sangh Parivar has also been pressurising the Modi government to build a wall to stop the Rohingyas.
This stance puts New Delhi at odds with Dhaka and that in turn, has the potential to jeopardise its 'neighbourhood first' policy. Bangladesh has told India about the Rohingya challenge and External Affairs Minister Sushma Swaraj has assured PM Hasina that India stands by its neighbour on this issue.
But whatever be the assurance, New Delhi can't stand by both the countries that are located at the opposite extremes of the spectrum. Taking a clear stand will mean India alienating either Suu Kyi or Hasina and that would add to India's anxiety as China will stand to gain hold in the country which New Delhi doesn't back. This is a major policy dilemma for the Modi government and we will be keen to know how it finds a middle path.