As the Rohingya crisis remains to be resolved and Bangladesh struggles to house the millions of refugees, the country now plans to introduce voluntary sterilisation in its camps.
Bangladesh had earlier encouraged birth control among the refugees, but the efforts had failed as these refugees reportedly do not know or understand much about the method. Authorities had even launched a campaign to provide contraception to these refugees and had distributed about 549 packets of condoms, but not many were open to the idea of using them.
"The whole community has been deliberately left behind," Pintu Kanti Bhattacharjee, who heads the family planning service in Cox's Bazar, told AFP. He explained that these refugees have never been educated on birth control in Myanmar and are often also not given access to numerous other facilities. Myanmar considers the Rohingyas to be illegal immigrants.
Bhattacharjee also revealed that these refugees usually come from large families themselves. While many of the Rohingya men had more than one wife, some families even had about 19 children.
Speaking about their large families, many refugees told AFP that more family members meant more help to survive in these camps as children are often sent to get daily supplies. Not just this, many refugees also refuse to use methods of birth control as they believe this is against their Islamic beliefs and even say that it is a sin.
"In Rakhine they did not go to family planning clinics, fearing the Myanmar authorities would give medicine that harms them or their children," Farhana Sultana, a family planning volunteer who works with Rohingya refugees, told the agency. Due to such beliefs, convincing these refugees about the benefits of birth control is a tough task for authorities.
Some families even believe that they were capable of providing for a large family and did not want to use these birth control methods. "I spoke to my husband about birth control measures. But he is not convinced. He was given two condoms but he did not use them," Sabura, a mother of seven, said. "My husband said we need more children as we have land and property (in Rakhine). We don't have to worry to feed them."
Considering none of these methods has been able to change the Rohingya refugees' beliefs, authorities have now asked the government to approve a plan, under which Rohingya men and woman can voluntarily undergo vasectomies and tubectomies.
Meanwhile, India too has been affected by the crisis as many refugees are in the country. It was earlier reported that New Delhi planned to deport about 40,000 Rohingyas back to Myanmar. Though it received quite some backlash on the matter, it was adamant on the decision and the Centre said that the step was in the nation's interest.
Explaining that many Rohingya refugees have links with terror groups such as the Islamic State of Iraq and Syria (ISIS) as well as Pakistan's spy agency ISI, the Centre told the Supreme Court said that the refugees staying in India would be a threat to its security.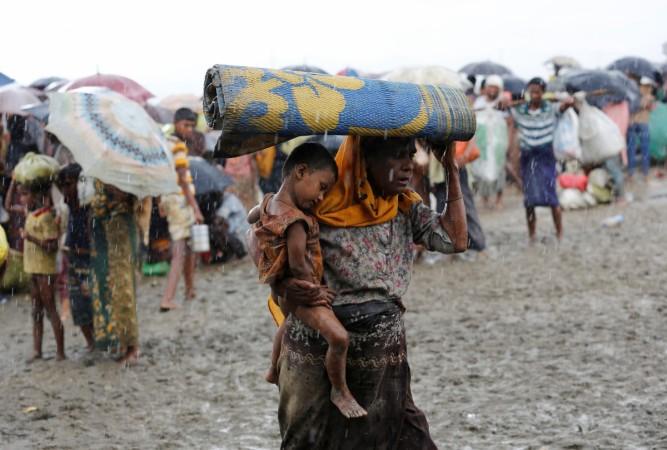 "It is a sensitive matter. Whatever government will do, will be in nation's interest," Hindustan Times quoted Minister of State for home affairs Kiren Rijiju as saying before the Supreme Court hearing. "We will mention the same in our affidavit to be submitted in the Supreme Court."
In tune, the Intelligence Branch of Nagaland had also warned of a possible terror attack by the Rohingya refugees, allegedly trained by ISIS. About 2,000 refugees are said to be undergoing training in the state and may fight back if India deports them.