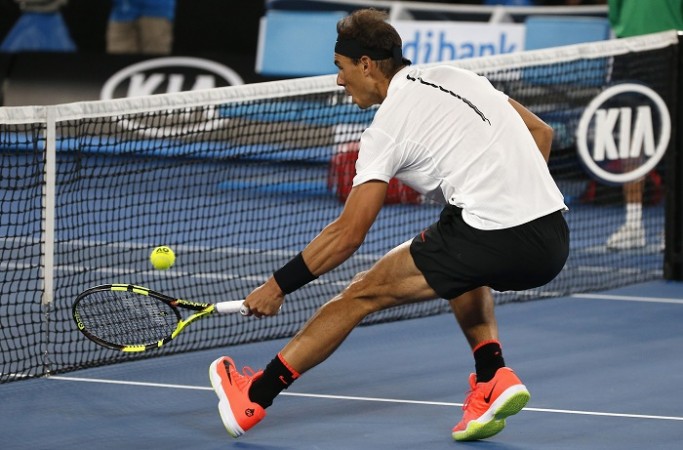 Rafael Nadal marched into the semifinals of the Australian Open after defeating Milos Raonic in the quarterfinals at Rod Laver Arena on Wednesday. The former World No. 1 won in straight sets, 6-4, 7-6 (9-7), 6-4 in the match, which lasted two hours and 44 minutes.
Also read: Vintage Roger Federer beats Mischa Zverev
Tennis fans would be extremely pleased with this win, as the highly-anticipated Nadal vs Roger Federer clash is still on. After the shocking exit of Novak Djokovic and Andy Murray, all eyes were on Nadal and Federer, who are huge favourites for the titles, and the two former World No. 1 players have not disappointed.
Nadal was a man on a mission against third seed Raonic, who had defeated the Spaniard in their last encounter in Brisbane. Nadal looked impressive in the first set, when he not only returned well, but also looked wonderfully fit during long rallies. With some wonderful passes and groundstrokes, Nadal clinched the first set 6-4.
Raonic realised that he needed to find another gear if he wanted to reach the semifinals of the Australian Open. The Canadian star played much better, matching Nadal shot for shot, with some incredible and powerful baseline shots, which helped him unsettle Nadal at times. However, the ninth seed was ready for everything that was thrown at him, and he clinched the third set in a close tie break, 7-6 (9-7).
With both players going for big shots, it was not surprising to witness Nadal and Raonic producing some stunning winners and also unforced errors. The close battle between the two players kept the crowd entertained.
After losing the second set, it was now or never for Raonic. The Canadian had to clinch the third set.
Despite Raonic giving it his all in the crucial set, Nadal, with his booming forehands, looked superior. Raonic, on the other hand, was missing some easy volleys, leading to frustration. As the game progressed, Nadal looked stronger, and came up with some wonderful shots at the end to win the match in straight games.
Very few might have expected him to reach so far in the competition, but by defeating Raonic in such a fashion, he has sent a strong statement to other remaining players in the tournament.