Andy Murray has been out of action since his quarterfinal loss to Sam Querrey in Wimbledon 2017. The Scot will be seen in action against the star of 2017, Roger Federer during an exhibition match at SSE Hydro in Glasgow on Tuesday, November 7.
Irrespective of this encounter being a charity event and not an ATP match, fans always love to see such quality players in action. No wonder, tickets for this event were sold out like hot cakes, in a matter of hours.
This match is a part of charity fundraiser event called Andy Murray LIVE and the proceeds of it will go towards UNICEF and other local charities. Murray was extremely pleased to bring Federer to the city and play against him in the charity event.
"This year it will be even bigger and better and I'm really pleased to be able to bring Roger to play in Scotland for the first time. He will get a chance to see just how enthusiastic the fans are here," "The Sun" quoted Murray as saying.
There are a number of reasons for this match being special. Besides these two being modern-day greats, and are playing for a cause, it is for the first time that the two will face one another in Scotland.
How to watch live

The event will be streamed live on Facebook page: ANDY MURRAY LIVE presented by SSE. The action starts at 7:30 pm GMT (1 am IST).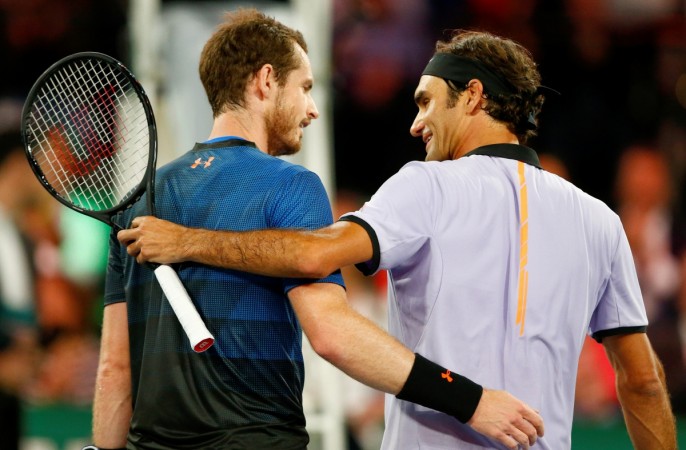 It would be interesting to see whether the local boy Murray or legend Federer receives major support. With this game being a part of the charity event, both the players should be equally supported.
Federer is currently preparing for the ATP World Tour Finals in London, which will take place next week.
Though Federer versus Murray match has bagged headlines, there is a doubles contest as well. Andy will partner his brother James Murray and face veterans Tim Henman and Mansour Bahrami, which will be a fun encounter. Bahrami, known for his entertaining style of playing tennis, will be another major crowd puller on Tuesday.