Roger Federer revealed he was disappointed and rued missed chances following his five-set shock defeat to South Africa's Kevin Anderson in Wednesday's Wimbledon quarter-final in London.
The 20-time Grand Slam champion wasted a match point when he was having a two-set lead and saw Anderson ride the sudden shift in momentum in the marathon last-eight outing that extended to four hours and 14 minutes in Court 1 of the All England Tennis Club.
Federer: It was an 'average day'
Federer won the opening set in just 26 minutes and scraped through in the second to equal his Wimbledon record of winning 34 successive sets — a feat he had achieved once earlier between 2005 and 2006. However, it all went downhill for the defending champion, who eventually lost the tie 6-2, 7-6(5), 5-7, 4-6, 11-13.
Calling it an "average" day, the eight-time champion shared his thoughts on the loss, saying: "It's just not one of my best days, but they don't happen very often either. It's one of those average days you have to try to win the match, and I just couldn't get it done today. So it's disappointing. It wasn't bad, it was average."
Anderson, who has reached his first Wimbledon semi-final, made the best use of the momentum after saving the match point when he was trialling 5-4 in the third set.
He began sending in those big serves consistently, hitting 28 aces over the five-set classic.
Federer uncharacteristically committed a lot of errors of his forehand and series of errors when he Anderson was serving for the match at 12-11 in the final set brought his title defence to an unexpected, early end.
Will Federer be back at Wimbledon in 2019?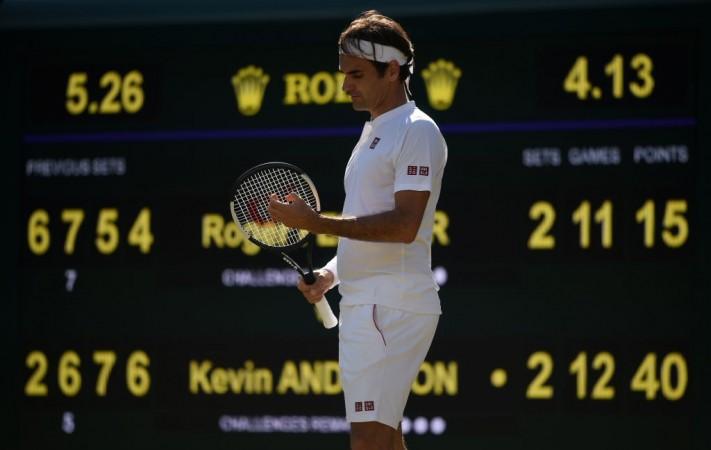 The Swiss great revealed he is not sure about how long it's going to take for him to recover from Wednesday's defeat but expressed confidence about returning to London for Wimbledon next year.
When quizzed about his extraordinary motivation to play Wimbledon every single season, he explained how much he hated losing at the grass-court Grand Slam tournament.
"I don't know how long it's going to take (to come out of this defeat). It might take me a while, it might take me half-an-hour, I don't know how long," Federer said.
"My goal is to of course come here next year. I wouldn't call it 'unfinished business' [at Wimbledon]. I felt like I did some good business here in the past already. So I'm all right. Just disappointed now," he added.
"Maybe the losses hurt more, you don't want to be on the losing side. I don't want to sit here and explain my loss. Honestly, I think I love being around here. It's a good vibe, I have great memories from here. My heroes all won here. Every time, I come back here, I try to be like them."
Nadal sets up Djokovic semi-final
Anderson will now meet fellow big-server Kevin Anderson of the United States in the first semi-final.
Meanwhile, Rafael Nadal edged past Juan Martin del Potro in a five-set thriller at SW19 on Wednesday and avoid another upset at the Wimbledon. The Spanish ace, who has reached this stage for the first time since 2011, will be facing Novak Djokovic, who disposed of Kei Nishikori in his quarter-final outing.