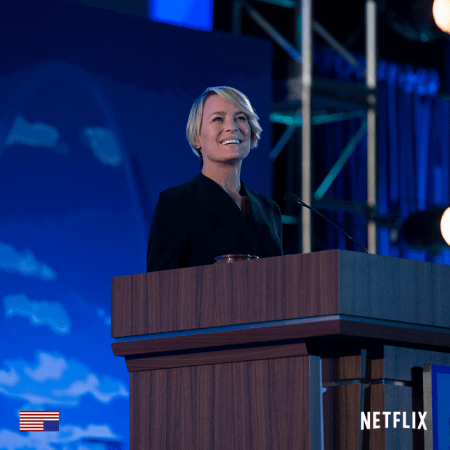 Remember the infamous Kevin Spacey scandal last year? In an interview, Discovery star Anthony Rapp revealed that Spacey made advancements towards him during a party at his apartment in 1986. Rapp was just 14 years old. A day after the accusation, Netflix decided to fire Kevin Spacey and cut all ties with the Oscar-winning actor—leaving the fate of 'House of Cards' finale hanging in the air.
Later, the streaming giants confirmed that final season of the series would not feature his Spacey's character Frank Underwood. Many wondered how will they even write a story without Frank's character. Season 5 ended with Claire manipulating Frank and taking over as the President of the United States.
After a long production work and much delay, Netflix released the first teaser of season 6 early this week. To everyone's surprise, it looks like Claire Underwood, played expertly by Robin Wright, will now lead the show.
The promo shows Claire sitting on the iconic throne at the Lincoln Memorial, and addressing the audience in a typical Claire attitude, "Happy Independence Day...to me." This is followed by another message on the screen: "#myturn."
Netflix's official description reads, "A message from the President of the United States."
Meanwhile, Patricia Clarkson, who joined House of Cards for Season 5, revealed on CBS' The Talk (quoted by Deadline) that it was Robin who really made the show possible. "Robin led all of this charge so that people would save their livelihoods because when the show goes away, some people don't get paid," she was quoted. She also added that the makers had to rethink the entire plot after Spacey's exit. "It's only eight episodes. ... I think it's going to be a stunning, stunning new season and I'm thankful for it," she added.
Netflix is yet to finalise a premiere date for the new season.