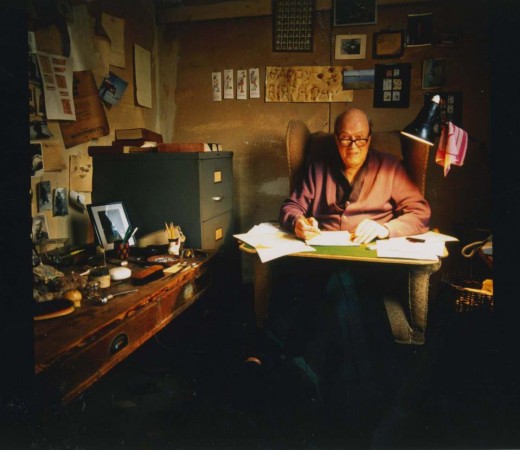 British author Roald Dahl's stories have been bedtime buddies to most of us.
In his enchanting books, he has made strange characters and perfectly magical worlds seem believable.
Be it James running into a cave dripping with peach juice in "James and The Giant Peach" or a 4-year-old Matilda devouring books like it's a cake walk in "Matilda," we have loved and adored the out-of-the-ordinary characters the author brought to life through his words.
On Roald's 100th birthday (Sept. 13), we have a list of quotes that will leave you a tad inspired, giving you a chance at approaching life differently and like Joey Tribbiani from "Friends" famously said, make you "wisdomous."
If you haven't already read Roald's geniusly crafted stories, now is a good time to indulge in a world where Oompa Loompa and Scrumdiddlyumptious are everyday words.
"But there was one other thing that the grown-ups also knew, and it was this: that however small the chance might be of striking lucky, the chance is there. The chance had to be there" – "Charlie and The Chocolate Factory."

"The matter with human beans," the BFG went on, "is that they is absolutely refusing to believe in anything unless they is actually seeing it right in front of their own schnozzles," – "The BFG."

"Those who don't believe in magic will never find it." — "The Minpins."

"A person who has good thoughts cannot ever be ugly. You can have a wonky nose and a crooked mouth a double chin and stick-out teeth, but if you have good thoughts they will shine out of your face like sunbeams and you will always look lovely." — "The Twits."

"Never do anything by halves if you want to get away with it. Be outrageous. Go the whole hog." —"Matilda."

"I understand what you're saying, and your comments are valuable, but I'm gonna ignore your advice." — "Fantastic Mr Fox."

"If you are going to get anywhere in life you have to read a lot of books." – "My Year."

You'll never get anywhere if you go about what-iffing like that." - "Charlie and the Great Glass Elevator."

"I will not pretend I wasn't petrified. I was. But mixed in with the awful fear was a glorious feeling of excitement. Most of the really exciting things we do in our lives scare us to death. They wouldn't be exciting if they didn't." - "Danny the Champion of the World."

"A life is made up of a great number of small incidents and a small number of great ones." – "Going Solo."